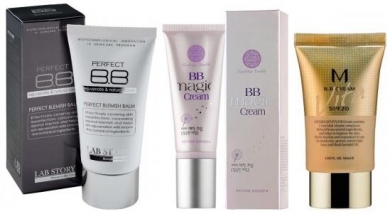 Following my last entry about BB Cream: the new rage in foundation,  I started seeing a lot more reviews on the product.  BB Cream is short for Blemish Balm Cream which is said to provide excellent coverage as a foundation as well as to regenerate the skin. Of the many reviews, I thought Kimoko did a good job because she's such a BB cream addict!  She has personally tested as many as 10 different BB creams from different brands. My gosh! Here's a list of what she has tested so far:
Skin Food Gingko Green BB Cream
Tony Moly Secret Natural BB Cream
Missha M BB Cream
Skin79 dermaRX Beblesh Balm
BRTC Perfect Blemish Balm
Dr Jart+ Rejuvenating Blemish Balm
The Face Shop BB Cream
BRTC Perfect Recover Balm
Dodo Club
Skin Food Aloe Sun BB Cream SPF20++
Kimoko says she has oily, prone to acne NC25 skin and that her complexion has improved a lot since she started using BB Creams.
It is able to provide the coverage of a foundation without clogging my pores and at the same time gives a glow to my complexion. Unlike foundation which at times does cake up, BB Creams doesn't. It doesn't oxidize on your face too. BB Cream should not be left overnight, you should remove it at the end of the day with a proper makeup remover and cleanser.
Her reviews appear to confirm what I've said earlier about BRTC BB Cream being the best.  Kimoko also recommends trying something that is not too high-end for starters. Brands like Skin Food, Missha and or Dodo Club would be suitable especially because they're readily available for those based in Singapore.
You can read her reviews here and here.  In addition, you can also watch this Korean video on YouTube which shows you how to use BB cream (from Skin79) with your makeup. 
Edit: I found out that the stock for BB Cream is now available at The Face Shop in Singapore today.  The cream smells good and doesn't feel oily at all.  But I didn't get it because I was told it I don't need it and anyway, the color, which looks a little greenish is too dark for my skin tone. 
© www.vivawoman.net copyright notice ☺
______________________________________________________________