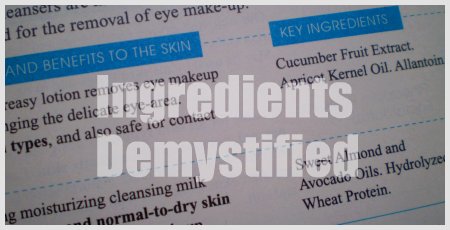 I just stumbled upon a very cool website on skincare ingredients by the name of Phoebe's Ingredients.  It consists of quite a bit of products in the market and the ingredients those products contain.  On top of that, it even rates how well or how bad the product performs in terms of anti-aging, antioxidant, anti-inflammatory, hydrating, whitening, exfoliating, drying, irritating and comedogenic going by their ingredient listing.
The website is probably still a work-in-progress as some products, like those from L'Occitane only bears the ingredients but not the ratings about those ingredients.  But if you look up a product like La Mer The Refining Facial, you will see this rating on top of the detailed ingredients:

Phoebe, the author of the website profess to be a cosmetic ingredient collector and wanted to share her collection with the rest of us so that we are more aware of what we're putting our money into. 
I find this useful for those who want to do some basic research on products before they buy and find out if the product is suitable for their skin type according to the ingredients listed.  Phoebe certainly has made it easier for us to understand without having to pore through every ingredient.  However, Phoebe did qualify that it is our responsibility to verify the information found on the site.
© www.vivawoman.net copyright notice ☺
______________________________________________________________