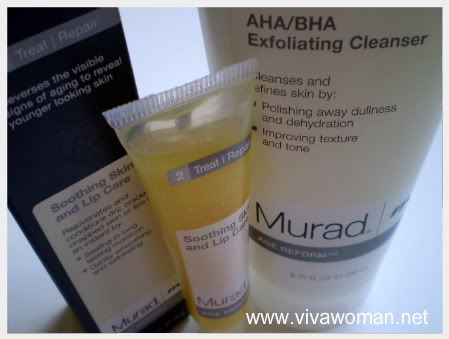 Murad skincare products have always been in my wishlist, especially since the creator Dr Murad is such an expert in skincare science.  His name always come up in the various beauty books I have read and Murad products containing AHA and BHA are much raved about everywhere.  So I was really happy to have the opportunity to review two skin care products in their slate, courtesy of Misikko.  I picked two of the products that were specific to my needs, would not interfere with the natural and organic stuff I'm currently using and have received excellent reviews from the gals at Makeupalley.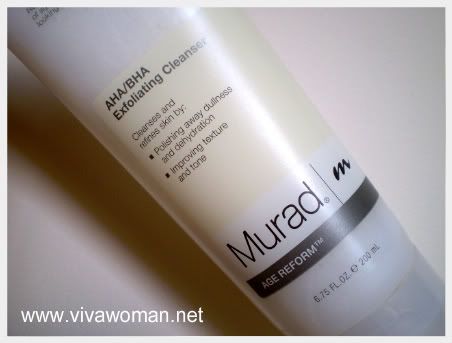 Murad AHA/BHA Exfoliating Cleanser
This is the first time I'm using a chemical exfoliator and I'm very pleased with the experience.  I love this so much and so does my husband, whom I'm sharing this with.  It's a cleanser and an exfoliator all-in-one and it really cleans up my face very well, giving me a soft and refine texture afterwards without dryness. The best part is, it smells really good. 
The product contains salicylic (BHA – beta hydroxy acid), glycolic (AHA – alpha hydroxy acid) and lactic acids which are supposed to encourage clarity and brightness by accelerating the skin renewal process and loosening dead skin cells that can dull our complexion and clog pores. In addition, I read that it will also help to diminish fine facial lines overtime.  I'll say it keeps my skin really clean but I don't see my fine lines disappearing yet and can't quite tell a big difference in terms of clarity and brightness after using this on my skin.  Well probably because my skin doesn't have much buildup. *cough*  But I really love the feel of jojoba beads on my skin.  It's heavenly and doesn't irritate!
Ingredients:
Water (Aqua), Sodium Laureth Sulfate, Simmondsia Chinensis (Jojoba) Seed Oil, Dipotassium Glycyrrhizate (Licorice Extract), Polyoxymethylene Urea, Cocamidopropyl Betaine, Glycol Stearate, Propylene Glycol, Sodium PCA, Glycolic Acid, Lactic Acid, Salicylic Acid, Sodium Ascorbyl Phosphate (Vitamin C), Polyquaternium-4, Carbomer, Sodium Hydroxide, Disodium EDTA, Sodium Hydroxymethylglycinate, Methylparaben, Propylparaben
Okay, the ingredients as you see here are mostly chemical but still, I don't mind using this up to three times a week because it's a wash off and I think my face can do with some help from AHA and BHA.  Anyway I have pretty resistant skin type so this Murad AHA/BHA Exfoliating Cleanser has worked well for me.  Anyway, 70 reviewers at Makeupalley gave this product a 4.3 out of 5 rating which says something good about it too.  But before you decide if you want to try this, you may also like to check out this entry where I examined if facial exfoliation is for all skin types.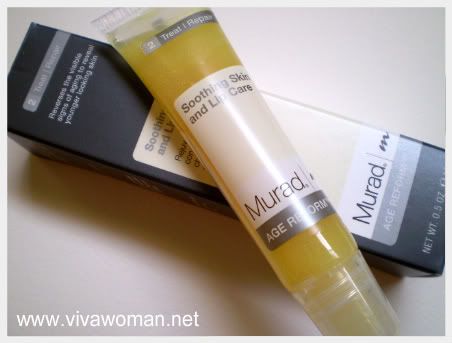 Murad Soothing Skin And Lip Care
I really don't like the smell of this product at all.  And because I use it for my lips, I sometimes get to taste it and I honestly say this stuff is awful.  But this product works well as promised so it's no wonder that it received a 4.2 out of 5 rating from 40 reviewers.   Murad Soothing Skin and Lip Care is a healing salve to bring immediate relief to dry, chapped lips by sealing in long lasting moisture with its vitamin E plus Lanolin as well as gently smoothing and exfoliating with the salicylic (BHA – beta hydroxy acid). 
Ingredients:
Petrolatum, Benzyl Cinnamate, Tocopheroyl Acetate, Lanolin, Aldehyde C-16, Cetyl Esters, Salicylic Acid
Yes, it contains petrolatum which I know some people have issues with.  For me, it's still acceptable since I use it only sometimes at night before bedtime.  But then, I have to say, the smell has put me off using this product more frequently than I would like to.
Summary
I really think Murad skincare is quite superior in terms of performance based on the two products I've tried.  But like all products, you need to know what to pick for your skin type.  I'm actually very keen to try the eye product but I guess, that will have to wait.  Murad's products aren't that affordable really and in Singapore, I'm not too sure of too many places selling the range except at Seiyu Bugis.  So for the time being, I'll just make sure I get the most out of the AHA/BHA Exfoliating Cleanser.  

© www.vivawoman.net copyright notice ☺
_______________________________________________________