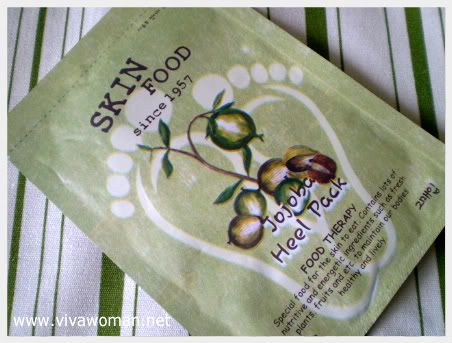 I'm a sucker for all things convenient which does not require too much effort on my part.  So when I came across SkinFood Jojoba Heel Pack, I knew I had to try this.  All I needed to do was to stick this heel pack which comes with an oil gel patch on my heels before I sleep and hopefully, get softer heels when I wake up.
So did it perform?
Yes, incredibly.  I wasn't expecting great results but I was so surprised how this has softened my heels.  And it was so easy to use as all I needed was to keep my heels clean and dry, stick this on and then sleep!
Is this a miracle patch?
SkinFood Jojoba Heel Pack contains jojoba oil rich in Vitamin E, lending a moisturizing feeling to the heels by effectively removing rough horny substances of the heels and taking good care of skin dryness.  However, don't expect a miracle if your heels are particularly hard, rough and cracked.  It will only soften them partially.  But it might be possible to heal your cracked heel overtime if this is used on a long term basis.
Is it worth it?
Even though this performs to a good extent, I'll say this is great as an occasional treat as at S$10.80 per pack, this is definitely too expensive to sustain over the long run!  You're really better off getting a specialized foot heel treatment cream, such as something which contains jojoba oil.
Summary
I have to say I love this!  It's easy to use and really convenient.  The only thing is that I have to be careful when sticking this on so that it doesn't come off easily when I sleep.  But still, it's too expensive and doesn't make much economic sense in the long term.

© www.vivawoman.net copyright notice ☺
_______________________________________________________