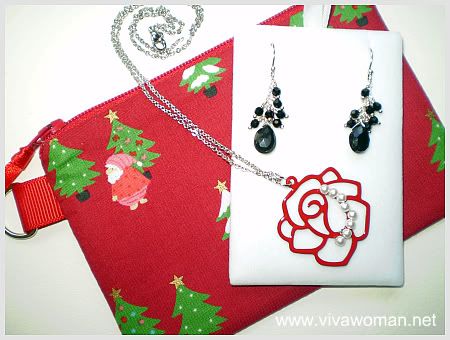 If you love handmade jewelry, then you need to stay tune at Viva Woman for the rest of the year! Because in the pipeline is a series of giveaways, ALL including at least one lovely piece of handmade jewelry. Yesh! Today, I'm running the first Viva Woman Bejeweled Giveaway and one of you will win this set worth US$55 consisting of:
- A pair of black onyx earrings from Beads & Pieces by Carol b
- A rose necklace with white swarovski pearls from Alas My Dear
- A cute santa forest red pouch from Florspace
Lovely aren't they?
:: HOW TO ENTER ::
Explore the shop and leave a link in your comments
Explore at least one shop from any of the three giveaway contributors via the links listed above. Find an item that you like from the shop, then leave a comment on this post letting me know which shop you've visited along with the link to the item you found there. You can enter more than once; just share ONE DIFFERENT LINK PER COMMENT!
AND/OR
Broadcast by linking back to this post
Spread the word about the Viva Woman Bejeweled Giveaway via your blog, twitter, facebook, plurk, myspace, forum or whatever online social network community with a link back to this post. Then, come back here and leave a comment telling me that you wrote about the giveaway with a link to where you post.
:: GUIDELINES TO TAKE NOTE ::
1. Remember to provide a valid email address.
2. The items are not redeemable for cash.
3. The giveaway will be opened till 12 midnight SST on 6 December 2008 and a winner will be randomly picked and announced shortly after.
4. Everyone can participate, no matter which country you reside.
So enter your comments and broadcast this giveaway right away!
* I will be checking my spam folder in case anyone's comments get caught. So don't worry too much in case your comments don't appear immediately. However, if you don't see it by the end of the day, send me an email to: vivawoman[at]gmail.com.

© www.vivawoman.net copyright notice ☺
_______________________________________________________