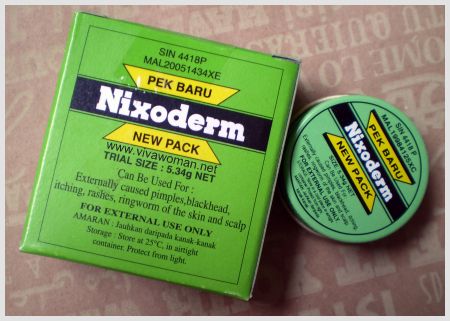 Some of you probably remember seeing this on your mum's dressing table. Or you may have even used it before and have known it by its Malay name Pek Baru or Chinese name Pai Ya Gao. Well, for those who haven't come across Nixoderm, this is a topical medication for pimples, blackhead, itching, rashes and even ringworm. It is a very effective acne blemish product, at least according to my experience. However, this product can cause irritation and even burning for those with sensitive skin as its active ingredients include 6% Benzoic Acid, 2.5% Salicylic Acid and 4.6% Precipitated Sulphur.
Helping to get rid of acne blemishes and scarrings
I remember using it extensively as a teenager and young adult for my pimples and in fact, any sort of skin ailments. It was very effective in helping me get rid of those annoying acne blemishes and scars and to a large extent, I believe it helped me get rid of my vagina sebaceous cyst too. However, that was the old formulation. The newer formulation seems to be less effective. Or perhaps my skin has become resistant to the ingredients over time?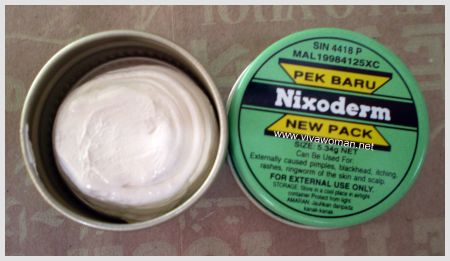 Comes in the form of a white thick putty
In addition to the said ingredients, Nixoderm apparently also contains Titanium Dioxide and Methanol among others. It goes on the skin as a thick putty and what you get is an immediate tingling sensation. Being a topical medication, don't expect this product to smell good.
The cream should not be used continuously after 7 days
You should only apply this cream on your problem spots and NOT the entire face. In addition, you'll need to adhere to the instructions which states use it should be "used continuously for 7 days before stopping for 3 days and continue using it for 7 days." Otherwise, you may experience flaking and peeling and in the worst scenario, your skin may even be burnt.  Based on my past experience using this cream, I could get rid of my pimples and even the blemishes in  a couple of days.
Cheap and readily available at local pharmacies
I picked this up while shopping for my Epsom Salt at Guardian Pharmacy as I am really getting fed up with the lack of improvement in my cheek acne. Maybe this cream will help to perform some miracles and get rid of the scarring quickly and permanently. *fingers crossed*  I've used it for two nights in a roll now and there is some slight improvement.  And a smaller pimple which had popped out is definitely drying up after I started applying this cream on the spot.  Anyway the small container only cost S$2.60 and it can last me quite awhile!
Manufactured in Malaysia
I believe Nixoderm is only available in certain parts of Asia as this product is manufactured by Royce Pharma Manufacturing Sdn Bhd in Malaysia.

© www.vivawoman.net copyright notice ☺
_______________________________________________________