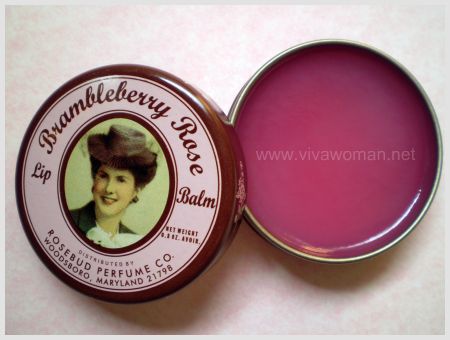 I hope everyone had a great, if not restful X'mas. Today, I'm going to review another lip balm – the Rosebud Brambleberry Rose Lip Balm.
I've wanted to own Smith's Rosebud Salve from Rosebud Perfume Company for the longest time. I think it must be the whole nostaglic feel about the product that attracted me. So you can imagine how pleased I was when I saw it in Sephora at Takashimaya Shopping Centre. And it's fairly affordable – S$14 for the 0.8oz pot.
Delicious smell of freshly baked berry pie
However, instead of the original formula, I decided to pick up Rosebud Brambleberry Rose Lip Balm instead because it looks pretty and smells simply declicious with its scent of wild berry. I think many of you girls will agree with my choice once you have a whiff of this!
Ingredient list
Yeah, I know this is not a natural or organic lip balm with its formulation of petrolatum, natural and artificial flavors, shea butter, tocopherol acetate (vitamin E), mica, titanium dioxide, carmine, and red 7 lake. In fact, I'm sort of adverse to lip balms containing petrolateum and this one has it! But I just love this! Maybe my mind is already "presold" to liking this product but really, I can't find a reason why I should dislike it. I truly feel good using it!
Super emollient and ultra moisturizing
It is, as described, a super emollient lip balm which provides immediate relieve to dry, chapped lips – leaving them soft, smooth, and great-smelling. It works well on its own or used just before applying my regular lipstick and last for hours under non-aircon environment. In addition, maybe it's the smell, but somehow I didn't feel so overwhelmed with the petrolateum in this lip balm unlike the others I've tried before.
Created to honor Miss Vivian
An interesting information about the Rosebud Brambleberry Rose Lip Balm is that it was designed to honor "Miss Vivian," the President of Rosebud Perfume Co., Inc. The picture on the tin was taken candidly by a professional photographer in Baltimore in 1945. Pretty isn't it?
Other range of Rosebud Lip Balms available
If you're purchasing Rosebud Brambleberry Rose Lip Balm online, it is available at US$7 from Sephora
. Besides Brambleberry, you can also choose the Rosebud Salve, Strawberry Lip Balm and Minted Rose Lip Balm with prices at between US$6 and US$7.

© www.vivawoman.net copyright notice ☺
_______________________________________________________