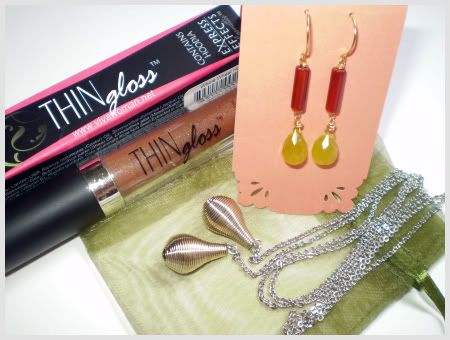 We're into the fourth Viva Woman Bejeweled Giveaway already and next week is the finale! So if you haven't been participating in this series of giveaway, do so now as today, one of you will get to win this lovely set of items worth US$70 consisting of:
- A carnelian and olive jade earrings from ChickRocks
- A silver Cleopatra lariat from Alas! My Dear
- A THINgloss (Whole Wheat Hottie) from Express Effects Cosmetics
:: HOW TO ENTER ::
Scavenger Hunt
Explore at least one shop from any of the four giveaway contributors via the links listed above. Find an item that you like from the shop, then leave a comment on this post letting me know which shop you've visited along with the link to the item you found there. You can enter more than once; just share ONE DIFFERENT LINK PER COMMENT!
:: GUIDELINES TO TAKE NOTE ::
1. You must enter a link for your entry to be valid.
2. Remember to provide a valid email address.
3. The items are not redeemable for cash.
4. The giveaway will be opened till 12 midnight SST on 27 Dec 08.
5. A winner will be randomly picked via random.org and announced.
6. Everyone can participate, no matter which country you reside.
So have fun exploring and enter your comments right away!
* My apologies that your comments are not appearing immediately due to a glitch in the new wordpress version. But don't worry; they will appear as soon as I approve them.

© www.vivawoman.net copyright notice ☺
_______________________________________________________