As promised, Viva Woman Bejeweled Giveaway is back and is now bigger! I'm really getting addicted to running this series of giveaways because it's such a delight to see these lovelies in my mail box. And I truly love the idea of someone receiving all these in one package because I'm very certain it's a wonderful feeling judging from the emails received from past winners.
Well, one of you will get to have this wonderful feeling when you win this set of items worth US$135 consisting of:
1. A pair of Melanie earrings from L'atelier Des Bijoux.
2. A Red Bubble Pendant necklace from Mann Made Designs.
3. A Fairest Of Them All Signature necklace from Ampersand Designs.
4. A pair of  Snowdrop Posey earrings from Jewelry Designs by Bina.
5. A six-pack assorted lip balms from My Lip Stuff.
6. An eyeshadow brush from Momo Minerals.
7. A lipliner brush from Momo Minerals.

Little Snowdrop Posey & Melanie earrings.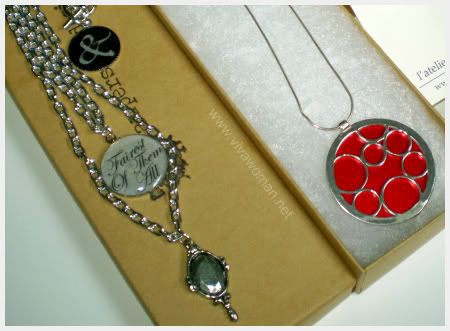 Red Bubble Pendant Necklace & Fairest Of Them All Signature Necklace.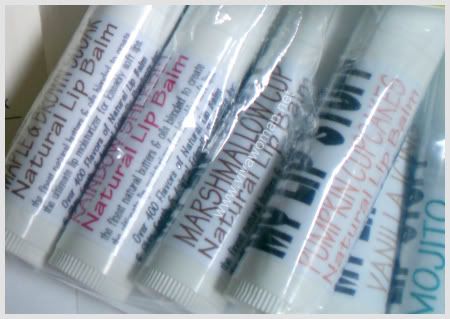 My Lip Stuff assorted lip balms.
:: HOW TO ENTER ::
Scavenger Hunt
Explore at least one shop from any of the giveaway contributors from 1 to 5 via the links listed above. Find an item that you like from the shop, then leave a comment in the comments field on this post letting me know which shop you've visited along with the link to the item you found there. You can enter more than once; just share ONE DIFFERENT LINK PER COMMENT!
AND/OR
Broadcast This Post
Spread the word about the Viva Woman Feb Bejeweled Giveaway via your blog, twitter, facebook, plurk, myspace, forum or whatever online social network community with a link back to this post. Then, come back here and leave a comment telling me that you wrote about the giveaway with a link to where you post.
:: GUIDELINES TO TAKE NOTE ::
1. You must follow the rules for your entry to be valid.
1. (Invalid entries will be deleted.)
2. Remember to provide a valid email address.
3. The items are not redeemable for cash.
4. The giveaway will be opened till 12 midnight SST on 14 Feb 09.
5. A winner will be randomly picked via random.org and announced.
6. Everyone can participate, no matter which country you reside.
SO HAVE FUN EXPLORING AND ENTER RIGHT AWAY!

© www.vivawoman.net copyright notice ☺
_______________________________________________________