I've decided to rename the giveaway because besides handmade jewelry, there are lots of other goodies that are meant to make you beautiful all round. Like this month's giveaway worth US$100 consisting of 10 different items!
1. A 99.9% silver pendant with Ruby from The Pretty Peacock.
2. A pair of Dessy Amazonite nugget earrings from Aphrodite888.
3. A bright floral pouch wristlet from Lifestyle With Love.
4. A pretty wristlet keychain from Jimmy Pickles.
5. A lovely glass tile pendant from The Purple Pear.
6. Two cute pocket mirrors from Cry Wolf.
7. 1oz Rhassoul Clay from Yours Essentially.
8. 1oz Herbal Healing Clay Masque from Yours Essentially.
9. 1oz Organic Shea Butter from Yours Essentially.
10. Kose Seikisho Mask White & Egyptian Magic Cream samplers.

Silver pendant necklace, amazonite earrings & glass tile pendant.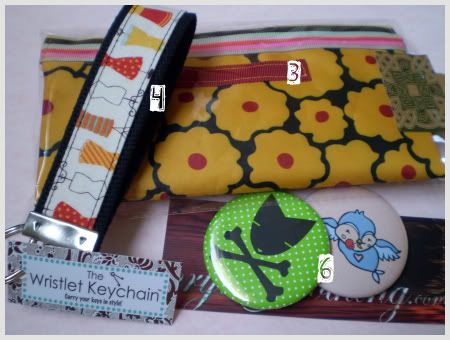 Floral wristlet pouch, wristlet keychain & pocket mirrors.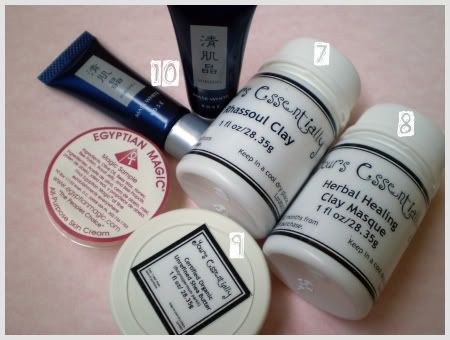 Clay masks, organic shea butter & samplers.
:: HOW TO ENTER ::
Scavenger Hunt
Explore at least one shop from any of the giveaway contributors from 1 to 7 via the links listed above. Find an item that you like from the shop, then leave a comment in the comments field on this post letting me know which shop you've visited along with the link to the item you found there. You can enter more than once; just share ONE DIFFERENT LINK PER COMMENT!
AND/OR
Broadcast This Post
Spread the word about the Viva Woman Mar VivaBella Giveaway via your blog, twitter, facebook, plurk, myspace, forum or whatever online social network community with a link back to this post. Then, come back here and leave a comment telling me that you wrote about the giveaway with a link to where you post.
:: GUIDELINES TO TAKE NOTE ::
1. You must follow the rules for your entry to be valid.
1. (Invalid entries will be deleted.)
2. Remember to provide a valid email address.
3. The items are not redeemable for cash.
4. The giveaway will be opened till 12 midnight SST on 14 Mar 09.
5. A winner will be randomly picked via random.org and announced.
6. Everyone can participate, no matter which country you reside.
SO HAVE FUN EXPLORING AND ENTER RIGHT AWAY!

© www.vivawoman.net copyright notice ☺
_______________________________________________________