Are you ready for this month's VivaBella Giveaway?  I hope you are because we have 10 lovely items worth US$162 contributed by seven generous sponsors! And they are…
1. From Zuii Organic
Zuii Certified Organic Flora Blush, Zuii Certified Organic Flora Lipstick and Zuii Certified Organic Flora Lip Tint. * prices on website in AUD$
2. From Mary Kay
Mary Kay Satin Lips Set including a lip mask and a lip balm.
3. From LashMantra
LashMantra 100% Natural Eyelash Growth Serum with applicator.
4. From Yasmins
Yasmins Sweet Natural Lip Balm with pure butters and oils.
5. From Balanced
Green Bling Necklace with Malachite round beads and faceted Czech glass oval beads.
6. From JPATPurses
JPATPurses Carnaby Mod Little Zip Pouch.
7. From Sweet Irie
Sweet Irie Keychain Wristlet to hold all your keys.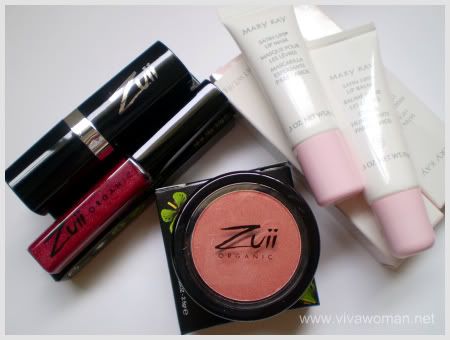 Cosmetics from Zuii Organics and Mary Kay.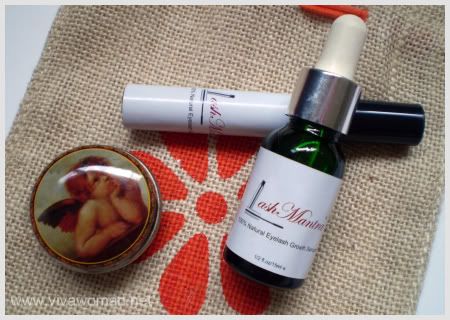 Beauty products from Yasmins and LashMantra.

Handmade lovelies from Balanced, JPATPurses and Sweet Irie.
:: HOW TO ENTER ::
Scavenger Hunt
Explore at least one shop from any of the giveaway contributors from 1 to 7 via the links listed above. Find an item that you like from the shop or some info about the shop, then leave a comment in the comments field on this post letting me know which shop you've visited along with the link to the item or info you found there. You can enter more than once; just share ONE DIFFERENT LINK PER COMMENT!
AND/OR
Broadcast This Giveaway
Spread the word about the Viva Woman Apr VivaBella Giveaway via your blog, twitter, facebook, plurk, myspace, forum or whatever online social network community with a link back to this post. Then, come back here and leave a comment telling me that you wrote about the giveaway with a link to where you post.
:: GUIDELINES TO TAKE NOTE ::
1. You must follow the rules for your entry to be valid.
1. (Invalid entries will be deleted.)
2. Remember to provide a valid email address.
3. The items are not redeemable for cash.
4. The giveaway will be opened till 12 midnight SST on 17 Apr 09.
5. A winner will be randomly picked via random.org and announced.
6. Everyone can participate, no matter which country you reside.
I'll be checking my moderation box regularly, hence don't worry if your comments do not appear immediately. SO HAVE FUN EXPLORING AND ENTER RIGHT AWAY!

© www.vivawoman.net copyright notice ☺
_______________________________________________________