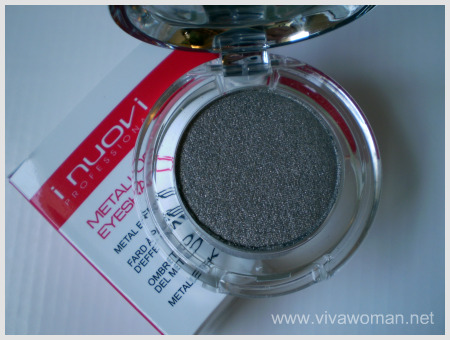 I picked up the new Metallogy Eye Shadow, compliments from I Nuovi, when I was at their Suntec City outlet recently. This range comprises 16 shades and they are described as molten metal eye colour formulated with a high percentage of metallic pearls for a dramatic shimmer effect.
The actual colors look quite different from what I saw on the website and in the end, I picked Tin 06006, which looks greyish with a little green undertone. It's an interesting color because I noticed it also has some slight hints of gold when I look at it under different lightings.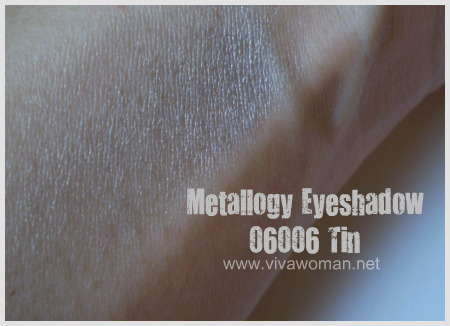 Anyway, there is no need to apply this with a heavy hand for the color to show up.  But the greenish tone only seems more obvious when I swiped more.
Winners of I Nuovi Giveaway
And now, the winners for the I Nuovi Giveaway!  I used random.org to draw the winners by creating one list for Singapore participants and another list for overseas participants, both according to their entry numbers.  I had to exclude a couple of invalid entries – those who did not tell me explicitly where they're from.
And the winners are:
- Entry no. 2: Zhenling from Singapore
- Entry no. 90: Nina from The Philippines
Congratulations ladies!  I have gotten in touch with you via the email.  Please keep a look out for it!  For those who like to view the entire list generated randomly, you can view here.  The two winners are based on the first set of numbers 2 and 90.
Those who entered but did not win, do keep a lookout for June VivaBella Giveaway next week because I Nuovi is sponsoring their Pro Lash and UnderCover!  Of course there are other lovely items in the loot too!  So remember to stay tuned!

© www.vivawoman.net copyright notice ☺
_______________________________________________________