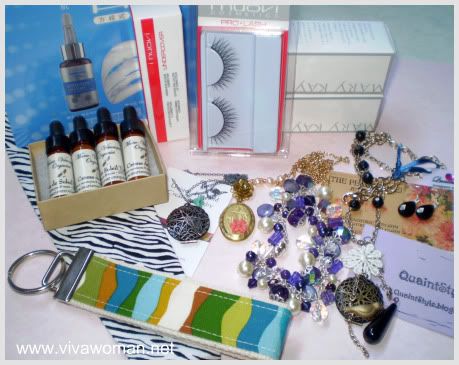 I hope you are all having fun with the series of VivaBella Giveaways at Viva Woman so far!  And if you haven't already noticed, the items – most are handpicked by me –  are getting more interesting each month.   Like this month, we have 11 lovely items worth about US$200 coming from some very generous sponsors and these include:
1. Alluring JuJu Bracelet from Spiffing Jewelry.
2. Enchanting Lockets from Crazy 4 Jewels.
3.Casandra Necklace from Cherbie's Creation.
4. Black Swan Earrings from The Peach Tree.
5. Bird Nest Necklace from Quaint Style.
6. Fabric Headband & Keychain Wristlet from Stylish Mode.
7.UnderCover & ProLash from I Nuovi.
8. 100% Natural Eyelash Growth Serum from LashMantra.
9. Creme de Soleil SPF30+ samples from Marie-Veronique Organics.
In addition, I'm giving away melaCEP Whitening Essence and Day Moisturizer with SPF15 from Mary Kay as well as Instant Whitening Facial Mask & Whiting Serum from L'egere.

Handmade accessories and jewelry from Stylish Mode and Spiffing Jewelry.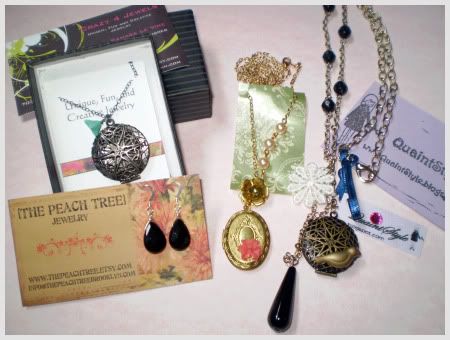 Jewelry fromCrazy 4 Jewels, The Peach Tree, Cherbie's Creation & Quaint Style.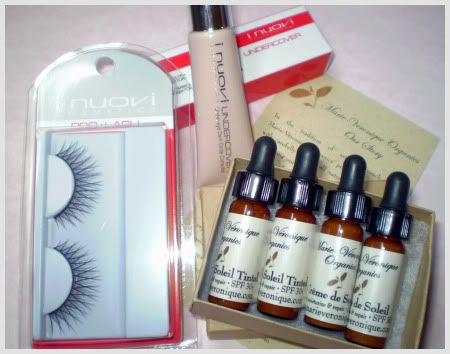 Beauty items from I Nuovi and Marie-Veronique Organics.

Eyelash Growth Serum from LashMantra.

Cosmetics from L'egere and Mary Kay.
:: HOW TO ENTER ::
Scavenger Hunt
Explore at least one shop from any of the giveaway contributors from 1 to 9 via the links listed above. Find an item that you like from the shop or some info about the shop, then leave a comment in the comments field on this post letting me know which shop you've visited along with the link to the item or info you found there. You can enter more than once; just share ONE DIFFERENT LINK PER COMMENT!
AND/OR
Broadcast This Giveaway
Spread the word about the Viva Woman June VivaBella Giveaway via your blog, twitter, facebook, plurk, myspace, forum or whatever online social network community with a link back to this post. Then, come back here and leave a comment telling me that you wrote about the giveaway with a link to where you post.
:: GUIDELINES TO TAKE NOTE ::
1. You must follow the rules for your entry to be valid.
1. (Invalid entries will be deleted.)
2. Remember to provide a valid email address.
3. The items are not redeemable for cash.
4. The giveaway will be opened till 12 midnight SST on 20 June 09.
5. A winner will be randomly picked via random.org and announced.
6. Everyone can participate, no matter which country you reside.
I'll be checking my moderation box regularly, hence don't worry if your comments do not appear immediately. SO HAVE FUN EXPLORING AND ENTER RIGHT AWAY!

© www.vivawoman.net copyright notice ☺
_______________________________________________________