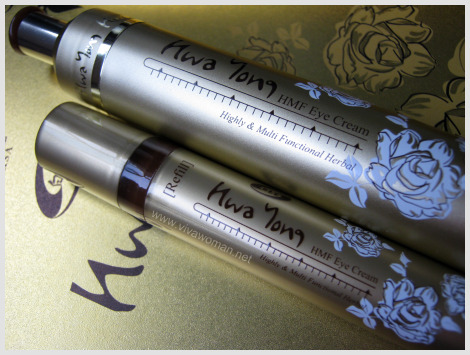 I was never into Korean cosmetics; not even at the height of the BB cream hype. My experience with their products is limited, and even though I do step into some of the Korean beauty stores occasionally, I usually step out empty-handed. So it's rather odd that I'm currently crazy about Korean skin care products. Yes! Since going for the Korean traditional anti-aging facial and learning more about the range of Korean herbal natural cosmetic products, I've been addicted! And today, I want to tell you more about them, plus offer three lucky local readers a gift!
Combination of cosmetic science and traditional herbal medicine
About a month ago, I was sent the Hwa Yong HMF Eye Cream which includes two small Hwa Yong HMF Perfect Serum ampoules.  Because the packaging and the products were in gold, the range  looked really expensive and premium to me and I wasn't wrong.  Hwa Yong, I was told, is one of the best selling Korean skin care brand that is backed by modern science and traditional herbal medicine from the authoritative 500-year-old Korean manuscript, Donguibogam. The products have been used by the Korean royalty since ancient times and is today, used by Korean A-lister celebrities like Geum Bo Ra.  Besides the concoction of 30 traditional herbal medicine, key active ingredients of the Hwa Yong products include young deer antler extract to improve blood circulation and fend off vital signs of aging plus natural Alpha Hydroxy Acid (AHA) to slough off dead cells and brighten dull skin.  Other than that, the products are said to be natural and free of chemicals, preservatives and fragrance.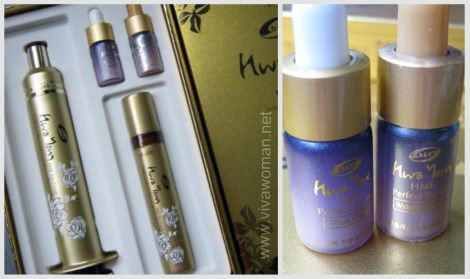 Hwa Yong HMF Perfect Serum
Hwa Yong HMF Perfect Serum is a four-week intensive skin booster that consists of two ampoules of Hwa Yong Perfect White Clinic Serum and Wrinkle Clinic Serum. The product I found most impressive was the small ampoule of Hwa Yong Perfect White Clinic Serum.  I used that on my entire face, even on my eye area and within that time, I noticed a marked improvement in my skin tone.  I was convinced that with longer term usage, there might be hope for my pigmentation!   However, that was not to be because the small ampoule only lasted me 2 weeks, and I had to follow up with the Wrinkle Clinic Serum for another 2 weeks.  I didn't see a noticeable difference to my skin using the wrinkle clinic serum though but it is supposed to smooth out lines and pre-empt aging.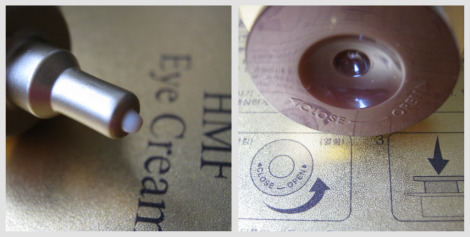 Hwa Yong HMF Eye Cream
I like the packaging of this eye cream.  It's like a big needle and what you need to do is to loosen the end and pump out the cream.  I thought it very innovative and of course, that added to the novelty and interest in using the product.  I'm usually leery of eye creams as I'm worried that they might contribute to milia seeds.  With the Hwa Yong HMF Eye Cream, I was even more careful since it contains so many herbal ingredients.  However, the good news is, my concerns were unfounded and my eye did not develop one milia seed after using this for a month or so.  In fact, I would say it helped brightened up my eye area quite a lot.  I don't think it did too much for my dark eye circles for they are still there, but I thought my crow feet sort of became softer although I did wonder if it's a placebo effect.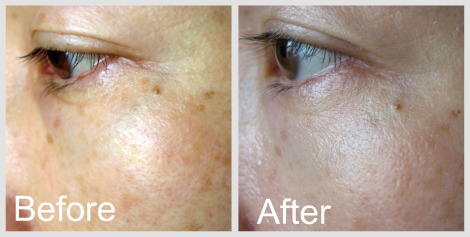 Before and after using Hwa Yong HMF Eye Cream & Perfect Serum
Okay, no point telling you if I don't show you right?  So here's the before and after pictures and you judge for yourself.  I'm showing you my left eye which has lots of wrinkles due to a bad case of eye swelling many years ago.  The changes are not astounding because I've only used this for a month.  In addition, please note that both pictures did not use the same camera because my Olympus died on me awhile back. 
The After picture is clearer and I'm not too sure if it's the lightings due to different timings, but you can see my skin tone is different.  Even the pigmentation seems to have lightened around the eye area.  However, do note that I'm also using other products on my face (not on the eye though) since this product is for the eyes and the serums are well, just serums.  But I did take both pictures at the same spot, without flash.  
Summary of the Hwa Yong HMF products sampled
Overall, I like the Hwa Yong HMF range because they are natural and herbal based.  I think their products have got great potential if you're looking at anti-aging and seriously, if I have deeper pockets, I will definitely buy the HMF Perfect Serum set which is S$400!  The Hwa Yong HMF Eye Cream and Perfect Serum kit which I was sent cost S$200, which is expensive too.  But for that price, you actually get two eye creams at 10ml each as one is a refill.
Other Korean natural herbal products at Dermona
You can find the full range of Hwa Yong HMF products at Dermona or join as a fan on their Dermona Facebook page to get updates on discounts and new info.  Besides Hwa Yong, the online store also sells other Korean herbal medicine cosmetics manufactured by Jung San Bio Tech.  I was told that these are premium products, in particular Hwa Yong and Dermona.  Dermona is known under another name in Korea and is also chemical free and even said to be 100% edible.  Well, I don't know about eating them but the products all look interesting.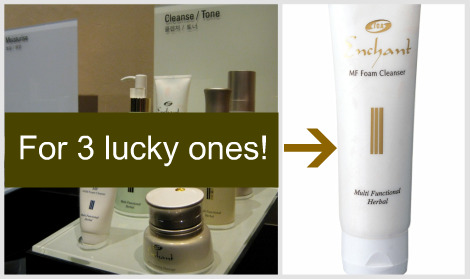 A giveaway for Viva Woman Singapore readers
So, as promised earlier, three lucky local readers will be getting a gift!  Dermona has kindly sponsored three 140ml Enchant MF Foam Cleansers worth S$38 each.  This is also a herbal formula and key ingredients include apricot kernel, algae, rice bran and complex active vitamins.  To enter in this giveaway, just answer the following two questions in the comments section:
1.  Which country is Hwa Yong from?
2.  What is one unique point about Hwa Yong products?
Other guidelines to note are – each Singapore-based reader is allowed one entry only, please provide a valid email address and the item is not redeemable for cash. The giveaway will be opened till 12 midnight SST on 12 October 09 and winners will be randomly selected.  So enter right away!
Giveaway Disclaimer: Viva Woman has not tested all the products in the giveaway and cannot be responsible for any negative product experiences that arise from using them. Please use the products at your own discretion should you win them.

© www.vivawoman.net copyright notice ☺
_______________________________________________________