It's coming to the end of October and it's time for our VivaBella giveaway too!   I haven't have time to work on this month's sponsorship but thanks to the generosity of various companies and individuals, one of you will win these  items valued at about US$270 from 7 sponsors:
:: PRODUCTS & SPONSORS ::
1. Easy-Eye Solutions
One set of Instant Eye Tuck & Dark Circle Treatment & Illuminating Eye Care Gel.
2. Lash Mantra
One 100% natural grown eyelash serum.
3. Kanga Organics
One Ola Hawaii Ocean Essence Creme Lotion.
4. Living Nature
Packs of halloysite clay deep cleansing masks and cleansing clay peels.
5. Honey Thistle
One Sweet Dandelion Necklace.
6. Tatcha
Two packs of aburatorigami Japanese blotting papers.
7. OnyxCraft
One 5 Color Dangle Earrings.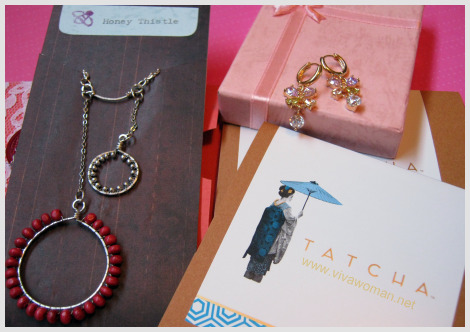 Lovely  jewelry from Honey Thistle & OnyxCraft plus Japanese blotting papers from Tatcha.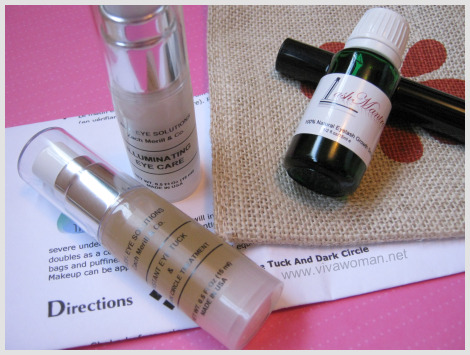 Treatments & serums to beautify your eyes  from Easy-Eye Solutions and  LashMantra.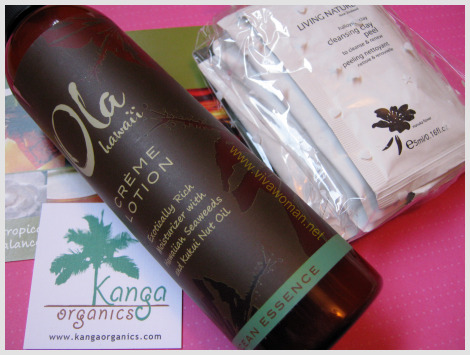 Body lotion from Kanga Organics & clay packs from Living Nature.
:: HOW TO ENTER ::
Scavenger Hunt
Explore at least one shop from any of the giveaway contributors from 1 to 7 via the links listed above. Find an item that you like from the shop or some info about the shop, then leave a comment in the comments field on this post letting me know which shop you've visited along with the link to the item or info you found there. You can enter more than once; just share ONE DIFFERENT LINK PER COMMENT!
AND/OR
Broadcast This Giveaway
Spread the word about the Viva Woman October VivaBella Giveaway via your blog, twitter, facebook, plurk, myspace, forum or whatever online social network community with a link back to this post. Then, come back here and leave a comment telling me that you wrote about the giveaway with a link to where you post.
:: GUIDELINES TO TAKE NOTE ::
1. You must follow the rules for your entry to be valid.
1. (Invalid entries will be deleted.)
2. Remember to provide a valid email address.
3. The items are not redeemable for cash.
4. The giveaway will be opened till 12 midnight SST on 10 November 09.
5. A winner will be randomly picked via random.org.
5. Everyone can participate, no matter which country you reside.
I'll be checking my moderation box regularly, hence don't worry if your comments do not appear immediately. SO HAVE FUN EXPLORING AND ENTER RIGHT AWAY!
Giveaway Disclaimer: Viva Woman has not tested all the products in the giveaway and cannot be responsible for any negative product experiences that arise from using them. Please use the products at your own discretion should you win them.

© www.vivawoman.net copyright notice ☺
_______________________________________________________