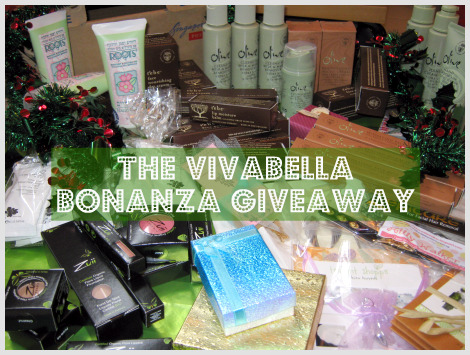 Christmas comes early at Viva Woman with the exclusive VivaBella Bonanza Giveaway! As you can see, there are lots of goodies and even now, I'm still expecting more to arrive by the week. In fact, I'm having a hard time explaining to my curious 6-year-old, who keeps asking me who are these for and when are they going to be given away.
For this week, I'm having the following goodies valued at about US$500 to be given away to 3 lucky ones – you can be from anywhere in the world and I'll send you the items! The beauty products will be allocated equally while the accessories will be allocated randomly. But you only have one week to participate!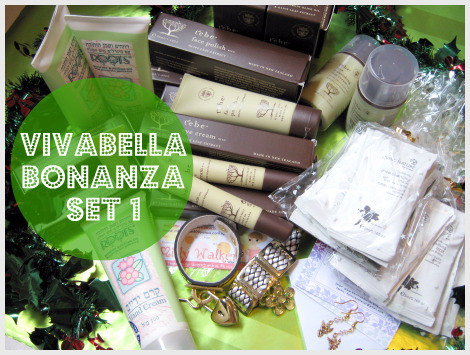 Goodies valued at US$500 to be given to 3 lucky winners!
:: PRODUCTS & SPONSORS ::
1. The Bracu Olive Estate
Tebe Face Nourishing Day Cream, Tebe Face Polish, Tebe Eye Cream, and Tebe Lip Moisture Balm.
2. Living Nature
Packs of halloysite clay deep cleansing masks and cleansing clay peels.
3. Choice Essentials
Dead Sea ROOTS Rosehip & Jojoba hand moisturising cream.
4. Milly Walker
One Merri Love Lock black bracelet and one Lovely Flower Butterfly white bracelet.
5. Raintree Atelier
One pair of Cherub Sparkles Earrings.

Beauty products from The Bracu Olive Estate, Living Nature & Choice Essentials.

Lovely jewelry from Milly Walker and Rainer Atelier.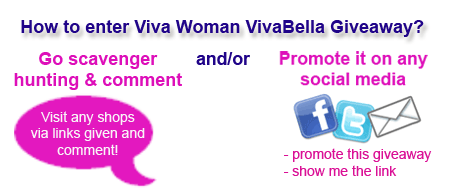 :: GUIDELINES TO TAKE NOTE ::
1. You may submit multiple entries but each comment must be different.
2. Remember to provide a valid email address.
3. The items are not redeemable for cash.
4. The giveaway will be opened till 12 midnight SST on 5 December 09.
5. Winners will be randomly picked via random.org.
6. Everyone can participate, no matter which country you reside.
I'll be checking my moderation box regularly, hence don't worry if your comments do not appear immediately. SO HAVE FUN EXPLORING AND ENTER RIGHT AWAY!
Giveaway Disclaimer: Viva Woman has not tested all the products in the giveaway and cannot be responsible for any negative product experiences that arise from using them. Please use the products at your own discretion should you win them.

© www.vivawoman.net copyright notice ☺
_______________________________________________________