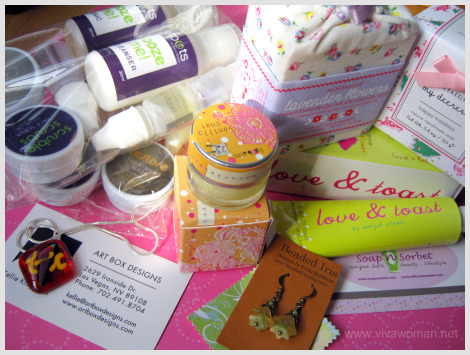 I hope everyone has had a lovely Christmas. Now that I'm back in action, I'll like to run the finale to the VivaBella Bonanza Giveaway. I have the last batch of goodies from three sponsors and they will be split up to be given away to 2 lucky ones! You have only 5 days to participate! So hurry!
:: PRODUCTS & SPONSORS ::
1. Soap 'n Sorbet
Love + Toast Paper Flower Hand Cream, Love + Toast Vanilla Chai Lip Balm, Nostalgia Organics My Deerest Soap, and Nostalgia Organics Lavender Flowers Soap Sack.
2. Potpots
A travel set comprising ALL ODDS! Cleanser, ALL ODDS! Tonic, Scrubie Scrub, Restore Treatment Mask, Intensify Potion Skin Repair Serum, Intensify Potion Eye Repair Serum and Revival Hydro Eye Gel.
3. Art Box Designs
One fused glass pendant "In Your Drawing".
4. A pair of pretty Springtime Flower Earrings from me.

Pretty products from Soap 'n Sorbet.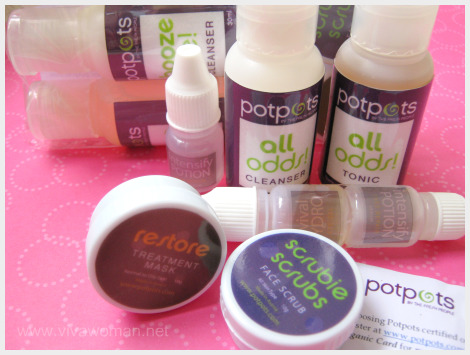 Handy travel sets from Potpots.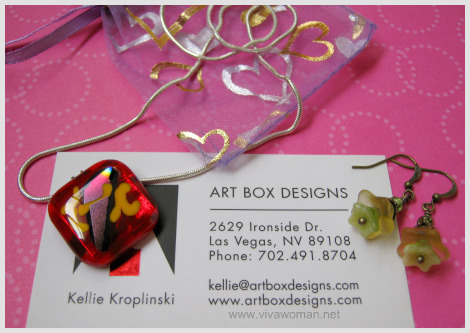 Lovely fused glass pendant necklace from Art Box Designs and Springtime Flower earrings.
:: GUIDELINES TO TAKE NOTE ::
1. You may submit multiple entries but each comment must be different.
2. Remember to provide a valid email address.
3. The items are not redeemable for cash.
4. The giveaway will be opened till 12 midnight SST on 31 December 09.
5. Winners will be randomly picked via random.org.
6. Everyone can participate, no matter which country you reside.
I'll be checking my moderation box regularly, hence don't worry if your comments do not appear immediately. SO HAVE FUN EXPLORING AND ENTER RIGHT AWAY!
Giveaway Disclaimer: Viva Woman has not tested all the products in the giveaway and cannot be responsible for any negative product experiences that arise from using them. Please use the products at your own discretion should you win them.

© www.vivawoman.net copyright notice ☺
_______________________________________________________