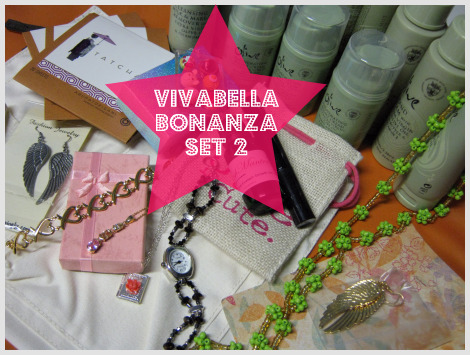 Thanks to all who participated in the first VivaBella Bonanza Giveaway. I have randomly selected three winners and they are – Kittenish, Anne-Marie T and Cass! Congratulations! I will be sending you an email later so please keep a lookout! For this week, I'm having the following goodies valued at about US$400 to be given away to another 3 lucky ones - allocated randomly according A, B & C in the pictures. But you only have one week to participate!
:: PRODUCTS & SPONSORS ::
1. The Bracu Olive Estate
Olive Cleansing Milk & Makeup Remover, Olive Rejuvenating Night Cream, Olive Hydrating Face Mist and Olive Hand Cream.
2. Tatcha
Tactcha Aburatorigami Japanese Blotting Papers.
3. Handicraft Diva
Lovely handmade bead necklace with Japanese Miyuki Beads.
4. JewelrySpice
One Eternity Heart Bracelet & Brilliant 3 Color Assorted Pendant Necklace.
5. Watches by Helen
One Hematite, Jet Rondelle, and Swarovski Crystal, and Silver Watch.
6. Tealightshoppe
One My Storybook Necklace.
7. Yours Lovingly
One ShipShape Bag Organizer, one Antique Silver Angel Earrings and one Gold Angel's Wing Earrings.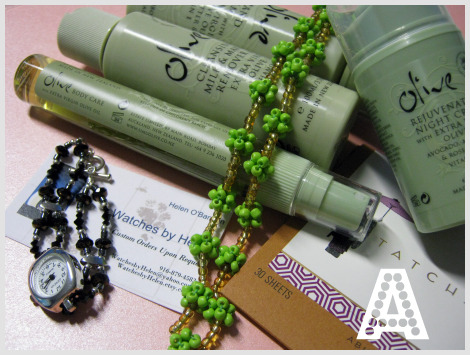 Beauty products from The Bracu Olive Estate and Tatcha plus handmade jewelry from Watches by Helen and Handicraft Diva.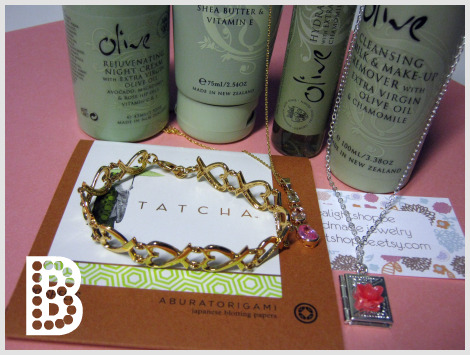 Beauty products from The Bracu Olive Estate and Tatcha plus lovely jewelry from JewelrySpice and Tealightshoppe.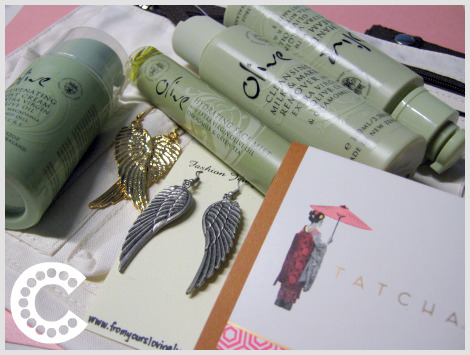 Beauty products from The Bracu Olive Estate and Tatcha plus lovely jewelry and accessories from Yours Lovingly.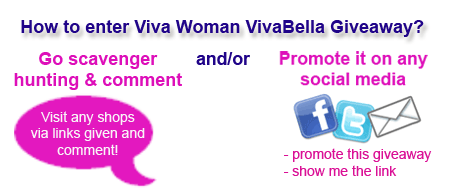 :: GUIDELINES TO TAKE NOTE ::
1. You may submit multiple entries but each comment must be different.
2. Remember to provide a valid email address.
3. The items are not redeemable for cash.
4. The giveaway will be opened till 12 midnight SST on 12 December 09.
5. Winners will be randomly picked via random.org.
6. Everyone can participate, no matter which country you reside.
I'll be checking my moderation box regularly, hence don't worry if your comments do not appear immediately. SO HAVE FUN EXPLORING AND ENTER RIGHT AWAY!
Giveaway Disclaimer: Viva Woman has not tested all the products in the giveaway and cannot be responsible for any negative product experiences that arise from using them. Please use the products at your own discretion should you win them.

© www.vivawoman.net copyright notice ☺
_______________________________________________________