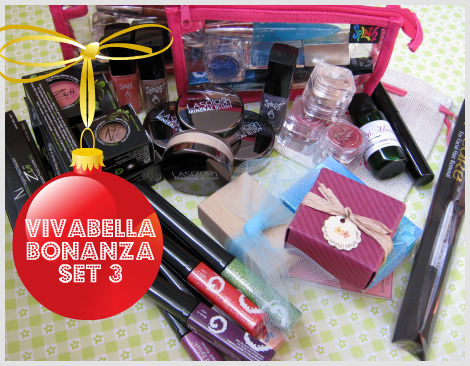 Thanks to all who participated in the second VivaBella Bonanza Giveaway. I have randomly selected three winners and they are – Rennie, TSY & fwy! Congratulations! I have sent you an email so please keep a lookout and respond! This week's giveaway is MEGA and is valued at about US$700 – many of which are my personal favorites that I have reviewed one time or another! And thanks to the generous sponsors, these lovelies will be given away to 4 lucky ones - allocated randomly according A, B, C & D in the pictures. But you only have one week to participate!
:: PRODUCTS & SPONSORS ::
1. Zuii Organic
A set of certified organic Flora Foundation, Flora Liquid Foundation, Flora Blush, Flora Eyeshadow x 2, Flora Lipstick x 2, Flora Lip Tint and Flora Mascara.
2. LA Splash
Sets of Mineral Blush x 4, Liquid Eyeliners x 9, Eyeshadow Powder x 5, Nail Spash x 5, Lipgloss x 2
3. LashMantra
One 100% natural eyelash growth serum.
4. Just Be Designs
One very lovely Alice Eats A Tart Necklace.
5. YuraPockyLover's Treasure Box
One really cute Sweet Treats Necklace Necklace.
6. Pastel Petals
One charming looking Autumn Rhapsody Earrings.
7. Epicare
One very innovative Epicare Face Threading Tool.
8. A pair of pretty Lilac Purple Iris Earrings from me.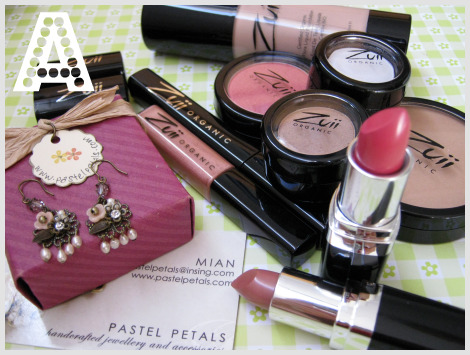 Cosmetics from Zuii Organic and handmade earrings from Pastel Petals.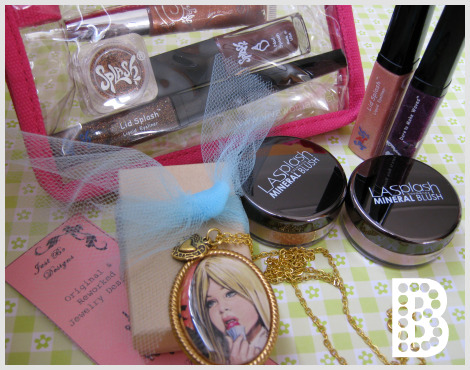 Cosmetics from LA Splash and Alice Eats A Tart necklace from Just Be Designs.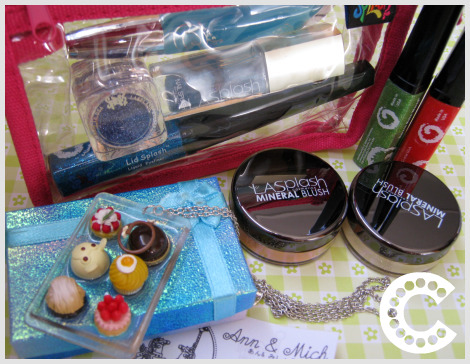 Cosmetics from LA Splash and Sweet Treats necklace from YuraPockyLover's Treasure Box.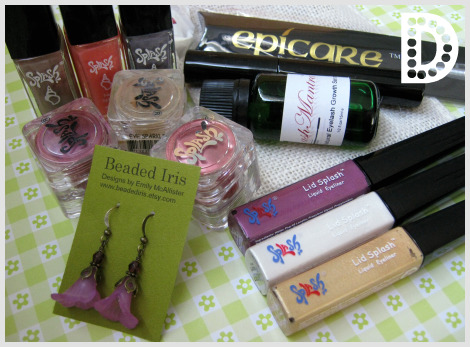 Beauty products from LA Splash, LashMantra and Epicare plus a pair of lovely earrings.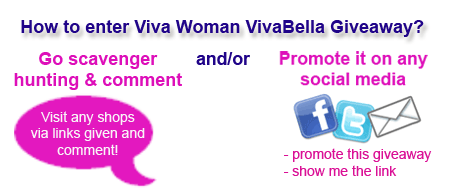 :: GUIDELINES TO TAKE NOTE ::
1. You may submit multiple entries but each comment must be different.
2. Remember to provide a valid email address.
3. The items are not redeemable for cash.
4. The giveaway will be opened till 12 midnight SST on 19 December 09.
5. Winners will be randomly picked via random.org.
6. Everyone can participate, no matter which country you reside.
I'll be checking my moderation box regularly, hence don't worry if your comments do not appear immediately. SO HAVE FUN EXPLORING AND ENTER RIGHT AWAY!
Giveaway Disclaimer: Viva Woman has not tested all the products in the giveaway and cannot be responsible for any negative product experiences that arise from using them. Please use the products at your own discretion should you win them.

© www.vivawoman.net copyright notice ☺
_______________________________________________________