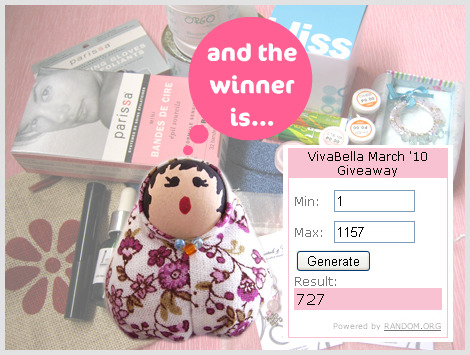 Thank you everyone for participating in the Viva Woman VivaBella March '10 Giveaway! We have a winner and that person is zzzmadison. Congratulations! An email has been sent requesting for your valid mailing address so please respond so that I can send out the items to you by end of next week. For the rest, stay tuned for the next one or help me win the Kiehl's Kiehl-ler Blogger Challenge (click for details) so that 5 of you may stand a chance to win up to S$150 worth of Kiehl's products each.
And if you're located in Singapore and happen to be near a Kiehl's store this weekend, remember to go in and ask for samples, quoting "I was sent by Viva Woman".  Apparently, samples for both the sunscreens are not available but you can always try the testers. But try asking for samples of their shampoos to suit your hair type or their popular Rare Earth Deep Pore Daily Cleanser or even products from their Dermatologist Solution Collection.
I'm off to a potluck this morning at my son's school. Was drooling over the box of pastries I bought last evening but I have to stay far far away from them…and probably other food too. Otherwise, my 2 weeks of detox will all be wasted.
Have a great Saturday ahead!

© www.vivawoman.net copyright notice ☺
_______________________________________________________