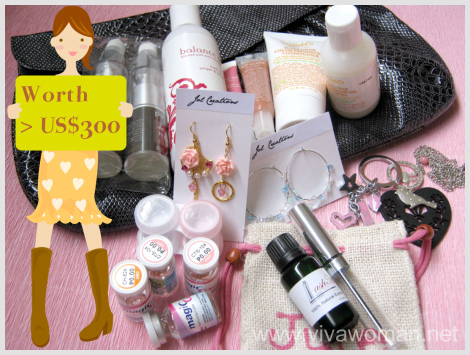 For the first time, I'm including a much bigger item in my giveaway and it's a clutch! And along with the clutch are nine other items with a total value of over US$300 coming from six sponsors plus three brand new items taken from my Kiehl's goodie bag. All these will go to one lucky person! For this month's giveaway, the usual rules apply and in addition, I ask that you be a fan of Viva Woman on Facebook. Just write on the Facebook wall the name you're participating in this giveaway or use the name on your Facebook in your comments about the shops or products here.
:: PRODUCTS & SPONSORS ::
1. ClubCouture
One noir snakeskin clutch, one black heart necklace & one pink key ring.
2. Jol Creations
One pair of If asymmetric earrings & one pair of Blue Billows aquamarine colors hoop earrings
3. Lash Mantra
One 100% natural grown eyelash serum.
4. Asian Fashion City
Two sets of Geo Circle contact lens that are ISO certified, as well as approved by KFDA (Korean Food & Drugs Adminstration) and Japan Ministry of Health, Labour and Welfare.
5. Potpots
One Revival Hydro Eye Gel with Intensify Potion Eye Repair Serum.
6. SuperNature
One Balance Me Organic Super Oil With Juniper & Bergamot and One Balance Me Organic Hydrating Rose Otto & Shea Butter Salve.
7. One Kiehl's Sunflower Color Preserving Shampoo, one Kiehl's Sunflower Color Preserving Conditioner & one Kiehl's Pear Tree Lip Gloss.

Pretty handmade jewelry from ClubCouture & Jol Creations.

Noir Snakeskin Clutch from ClubCouture.

Eyelash serum from LashMantra & colored contact lenses from Asian Fashion City.

Beauty products from SuperNature, Potpots & Kiehls.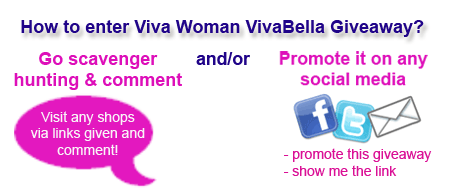 :: GUIDELINES TO TAKE NOTE ::
1. You may submit multiple entries but each comment must be different.
2. Please join as a Viva Woman Facebook fan.
3. The items are not redeemable for cash.
4. The giveaway will be opened till 12 midnight SST on 26 April 2010.
5. A winner will be randomly picked via random.org.
6. Everyone can participate, no matter which country you reside.
I'll be checking my moderation box regularly, hence don't worry if your comments do not appear immediately. SO HAVE FUN EXPLORING AND ENTER RIGHT AWAY!
Giveaway Disclaimer: Viva Woman has not tested all the products in the giveaway and cannot be responsible for any negative product experiences that arise from using them. Please use the products at your own discretion should you win them.

© www.vivawoman.net copyright notice ☺
_______________________________________________________