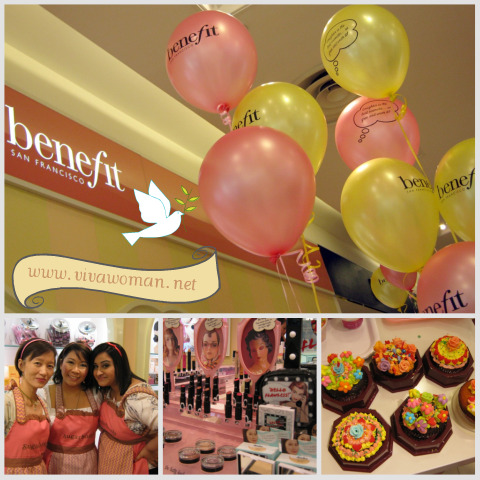 I had quite a load of fun with three lovely fellow beauty bloggers – Joyce, Mag and Sarah –  at a get together organized by Benefit Cosmetics Singapore two days ago. Instead of just getting to find out more about their cosmetics, we had great fun decorating cupcakes dressed as Benefit Cosmetics Sugarbomb maidens complete in aprons and headbands!
I don't think Benefit Cosmetics need much introduction. Even if you're not a makeup lover, you'll probably have spotted some of their quirky and interesting cosmetics sometime or another. So even though I'm not much into makeup and don't always undertand how to use their products, but I've bought a couple of their stuff in the past simply because I found them too interesting to resist. Don't ask me why but I think I'm just sold by their clever packaging, never mind I only used some of the stuff I bought once or twice. And that reminds me – I have at least two of their lip glosses that are still looking rather brand new in my stash and they've most probably expired by now!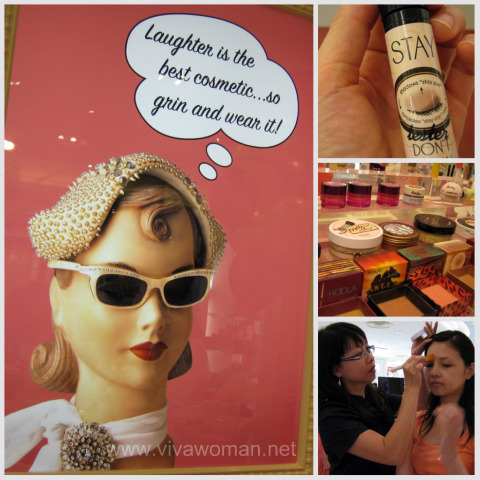 Anyway, I learnt that Tweezerman for Benefit won't be available in Singapore till a lot later. In addition, it seems that Benefit Cosmetics will be launching more skincare products although I'm not sure of the details at this moment. I also didn't know that Benefit Cosmetics has a brow bar for ladies to have their brows shaped and arched with waxing. The cost is S$22 for a single session and they even offer packages like "buy 3 get 1 free" at S$65! Sounds like something interesting to check out sometime!
Okay, so much sugar words for today! I got to get my butt mov-ing now. Enjoy the rest of your day!

© www.vivawoman.net copyright notice ☺
_______________________________________________________
Related posts you may also like to check out: