Yes yes, it's been awhile since I ran the last VivaBella Giveaway. It was getting time consuming and I was so busy last few months but now, I'm getting my act together. So today, I'm kicking off the series again with over S$300 worth of goodies sponsored by six companies.
PRODUCTS & SPONSORS
1. Kiehl's
One Kiehl's Midnight Recovery Concentrate.
2. LashMantra
One 100% natural grown eyelash serum.
3. Potpots
One Revival Hydro Eye Gel with Intensify Potion Eye Repair Serum.
4. TheOrangeCo.com
One travel set of Ecobeau skin care products.
5. Eyeko
Two Graffiti Eyeliner Pen in navy blue and fierce purple.
6. Yours Lovingly
One Vignette Veira bag organizer from Yours Lovingly.
7. One handmade ornate blue/black teardrop lariat from moi.

Eyelash serum from LashMantra & Midnight Recovery Concentrate from Kiehl's.

Skin care and makeup products from Ecobeau, Potpots & Eyeko.

Bag organizer from Yours Lovingly & a handmade lariat necklace.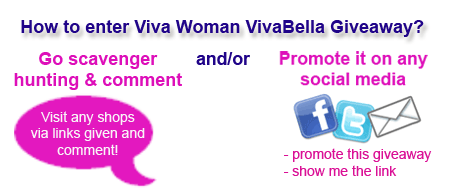 GUIDELINES TO TAKE NOTE
1. You may submit multiple entries but each comment must be different.
2. The items are not redeemable for cash.
4. The giveaway will be opened till 12 midnight SST on 31 August 2010.
5. One winner will be randomly picked via random.org.
6. Everyone can participate, no matter which country you reside.
I'll be checking my moderation box regularly, hence don't worry if your comments do not appear immediately. SO HAVE FUN EXPLORING AND ENTER RIGHT AWAY!
Giveaway Disclaimer: Viva Woman has not tested all the products in the giveaway and cannot be responsible for any negative product experiences that arise from using them. Please use the products at your own discretion should you win them.

© www.vivawoman.net copyright notice ☺
_______________________________________________________