♥Guest Post♥
This is a guest review from Crystal of
Watermoolen
on an interesting, candy-like organic lip balm.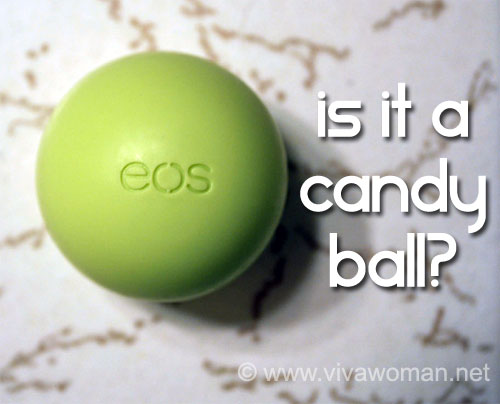 Evolution of Smooth (EOS) products are known for their 95% organic lip balms. Due to their success and increased press this past year, the company has now expanded their product line into lotions and shaving creams (though these are not claimed to be 95% organic). The lip balms are fantastic as they come in cute packaging, especially the EOS Lip Balm (Smooth Sphere), which looks like a little candy ball you get from a vending machine. If you want a more adult look, they sell the the lip balms in tube kinds as well. The Smooth Sphere lip balms come in five natural flavors, and the one I chose to use was the "honeysuckle honeydew."
100% Natural, 95% organic, and paraben free
Ingredient List (* denotes organic, 1 denotes natural flavor): Olea Europaea (Olive) Fruit Oil*, Beeswax (Cire D'abeille)*, Cocos Nucifera (Coconut) Oil*, Simmondsia Chinensis (Jojoba) Seed Oil*, Natural Flavor, Butyrospermum Parkii (Shea Butter)*, Stevia Rebaudiana Leaf/Stem Extract*, Tocopherol, Helianthus Annuus (Sunflower) Seed Oil*, Vaccinium Angustifolium (Blueberry) Fruit Extract*, Fragaria Vesca (Strawberry) Fruit Extract*, Prunus Persica (Peach) Fruit Extract*, Linalool1.
I used to use any lip balms that were inexpensive but when I found out they contained a lot of synthetic ingredients, I wanted to find something a bit more natural. After all, this is different than your face, you will be actually licking and tasting your lips from time to time. So, to find out that this lip balm is 100% natural and 95% organic, it just seems so good to be true! I'm always skeptical when I see companies claim ingredients to be natural even if they are synthetically processed. But the main point here is that the lip balms actually do contain 95% organic ingredients. Key ingredients include olive fruit oil, coconut oil, shea butter, and even blueberry extract. The lip balms are certified by Oregon Tilth and contains no parabens. The ingredient, tocopherol (a.k.a. Vitamin E), helps preserve the lip balm.
Light scent and taste
Name brand lip balms usually contain a lot of scent and taste which I don't like. It's good that this lip balm has a sweet but light fragrance and taste to it. It actually does taste a bit like unripe honeydew once you apply it onto your lips. And the smell is very succulent! You also don't need to worry about swallowing anything bad since 95% of the ingredients are organic and derived from plants/fruits.
Texture, packaging, and lasting power
This lip balm glides on your lips smoothly and the lip balm literally is shaped in a ball form. Unlike most lip balms which are in tubes, this sphere lip balms makes it easier to apply to your entire lips area. Because it has a bigger surface than conventional tube lip balms, this structure helps the application a lot easier. The lasting power is comparable to lip balms that are not organic and can last for about an hour if you don't drink or lick your lips. Once applied, my lips feel a lot softer and adds a bit of shine, too.
Availability
EOS lip balms are retailing at US$3.29 at EOS website or US$3.99 at drugstore.com. You can also locate EOS at Walgreens and Target. As for international buyers, you can always contact EOS to specifically locate the products for you.
Summary
I give this lip balm a five out of five hearts. This lip balm should replace all the lip balms out there considering the lasting power is superb, and it's 95% organic. But, if you're the type who likes to put lip balms in your pockets, then you may want to opt for that adult-like tube like I mentioned earlier. The formula is basically the same, so you're good to go!

© www.vivawoman.net copyright notice ☺
_______________________________________________________