Hey everyone, welcome to May's VivaBella Giveaway! This month, I'm giving away S$450 worth of goodies – nine of them sponsored by six companies and four of them contributed by me. This giveaway is slightly different from the previous as instead of all these items going to one winner, I will pick three winners this round. One winner will get to receive 11 items while the remaining two items marked with the Facebook 'Like' button will go to two fans of Viva Woman Facebook Page. The rest of the rules remain similar but please read the guidelines just to stay qualified.
PRODUCTS & SPONSORS
1. Juice Beauty
One Perfecting Foundation & Refining Finishing Powder from Juice Beauty.
2. Hold Me
One Les Fleurs Hold Me Cosmetic Bag.
3. Varnya
One 100% all natural, vegan and gluten-free anti-aging serum.
4. LashMantra
One 100% natural grown eyelash serum made with 18 pure cold pressed oils.
5. MrnMrsFabulous Eco-friendly Shop
Three Envirosax Bags from the Travel Trilogy Collection.
6. Fantastic Find By PuppyMoo
One Suncoat Natural Mascara in black.
One Boots Lavender Hand Cream, one Boots eyeshadow, one eye pillow and one facial herbal compress from me.

Perfecting Foundation & Refining Finishing Powder in Organic Ivory from Juice Beauty.

One Les Fleurs Hold Me Cosmetic Bag.

Three Envirosax Bags from MrnMrsFabulous Eco-friendly Shop.

Face and eyelash care products from LashMantra, Varnya & Fantastic Find By PuppyMoo.


Boots handcream & eyeshadow plus Thai eye pillow & facial herbal compress.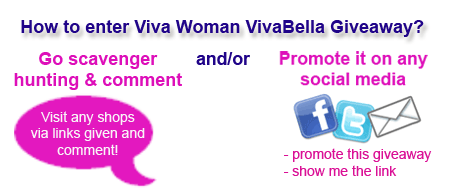 GUIDELINES TO TAKE NOTE
If you want to win one of the two items marked with the Facebook 'Like' Button, all that is required is for you to like this entry on my Viva Woman Facebook Page and tell me which item you want to receive. You can only comment once on my Facebook page but you can still continue to comment here to get a chance to receive the rest of the items too.
1. You may submit multiple entries here but each comment must be different.
2. Your comment must be specific to the company or their products.
3. Comments that show no evidence of guideline 2 will be deleted.
4. The items are not redeemable for cash.
5. The giveaway will be opened till 12 midnight SST on 30 May 2011.
6. Three winners will be randomly picked via random.org.
7. Everyone can participate, no matter which country you reside.
8. Winner will be announced on the Viva Woman Facebook page after closing.
I'll be checking my moderation box regularly, hence don't worry if your comments do not appear immediately. SO HAVE FUN EXPLORING AND ENTER RIGHT AWAY!
Giveaway Disclaimer: Viva Woman has not tested all the products in the giveaway and cannot be responsible for any negative product experiences that arise from using them. Please use the products at your own discretion should you win them.

© www.vivawoman.net copyright notice ☺
_______________________________________________________