This is the first giveaway for the second half of 2011 and this month, I'm giving away 26 items worth nearly S$400 to two winners! As you can see, most products come in pairs and these will be SHARED between two of you – 13 items to go to one of the blog commenters here and the other 13 to go to a fan of the Viva Woman Facebook Page. To win the first 13 items here, just comment in this entry as per the guidelines. And to win the 13 items from my Facebook page, all you need to do is to 'Like' this entry when I post it up the FB wall – no need for comments but you can write something if you wish of course. Easy?
PRODUCTS & SPONSORS
1. Kelyn Esther
One Hydrating Body Cream & one Exfoliating Shower Scrub from Kelyn Esther.
2. Varnya
One 100% all natural, vegan and gluten-free anti-aging serum.
3. LashMantra
One 100% natural grown eyelash serum made with 18 pure cold pressed oils.
4. Beauty Finest
Two Skin Watchers Papaya Moisture Peeling Gel.
5. Orange Señorita Shop
An assortment of skin care and makeup products from Human Nature.
6. Olive Shop
One contour eye cream & one hand cream from Olivella.
One Color Quench Lip Balm from Clarins and one Long Lasting Lipstick from Estee Lauder.

Dead sea body care products from Kelyn Esther.


Varnya Anti-Aging Serum & LashMantra Eyelash Serum.


Skin Watchers skincare products from Beauty Finest.


Makeup and skin care products from Human Nature.


Contour eye cream & hand cream from Olivella.


Lipgloss from Clarins & lipstick from Estee Lauder.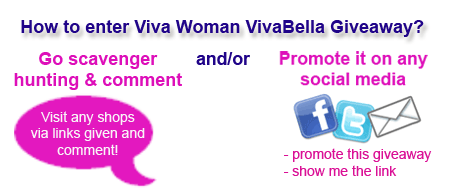 GUIDELINES TO TAKE NOTE
1. You may submit multiple entries here but each comment must be different.
2. Your comment must be specific to the company or their products.
3. Comments that show no evidence of guideline 2 will be deleted.
4. The items are not redeemable for cash.
5. The giveaway will be opened till 12 midnight SST on 26 July 2011.
6. One winner will be randomly picked from the comments via random.org.
7. Another winner will be randomly picked from the Viva Woman FB page.
8. Everyone can participate, no matter which country you reside.
9. How the items will be divided between the 2 winners will be decided by me.
10.Winners will be announced on the Viva Woman Facebook page.
I'll be checking my moderation box regularly, hence don't worry if your comments do not appear immediately. SO HAVE FUN EXPLORING AND ENTER RIGHT AWAY!
Giveaway Disclaimer: Viva Woman has not tested all the products in the giveaway and cannot be responsible for any negative product experiences that arise from using them. Please use the products at your own discretion should you win them.

© www.vivawoman.net copyright notice ☺
_______________________________________________________