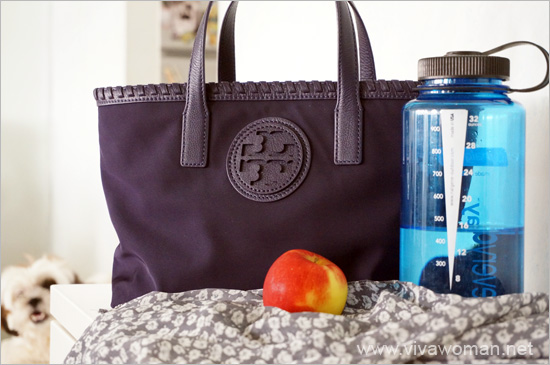 Just to let you know, I haven't slack in packing my lunchbox to work even though I haven't posted any new lunchbox ideas. I'm still diligently preparing my own lunchbox every morning and lunching in almost every single work day except when I have to eat out due to an appointment. In fact, I am so serious about lunching in that I've been scouring for a decent lunch tote for awhile. I had very specific requirements: it has to be small yet roomy for my needs; it should be sturdy for long term use; and it has to be in black to fit all my work attire. Well, I managed to snag just a bag like that!
Yes, this is the bag as you see in the picture and it's the Tony Burch Marion Nylon Mini Tote. To be clear, I don't really care for the brand but well, I got it because this makes the perfect lunch tote for me. I know some people are probably rolling their eyes at my choice or the fact that I'm using this to carry my lunch stuff. But hey, like I told my colleagues, I take my lunch very seriously! And even though I got it with lunch in mind, this mini tote can double up as a normal bag for times when I don't need to lug rocks around. LOL.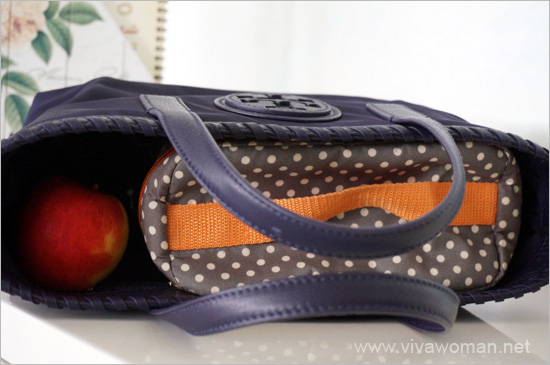 Wanna know what I pack for lunch daily? Actually I'm almost embarrass to blog about this but I carry a 1 litre full of water bottle to work every day. Sounds kinda stupid when we have water supply at work right? And to think I used to carry 1.5 litres! So what's the deal?
Well, I am serious about drinking water too and so I fill my 1 litre bottle with Cell-Gen AH antioxidant water from home. I'm not keen on drinking those distilled water available at work because it offers no benefits for my body at all. Plus it doesn't make sense that I am not the drinking quality water I have at home just because I'm working. So I take a bit of trouble to lug a full bottle daily to work. It's a bit heavy but well, it's my choice.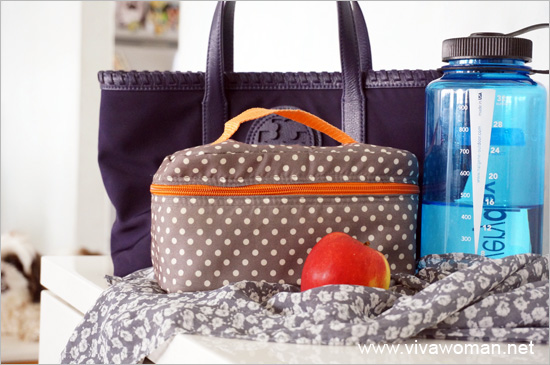 Besides the 1 litre water bottle, of course there's my lunchbox, already packed in a lunch bag. In effect, I have a bag within a bag! HA. With those two items inside my Tony Burch Marion Nylon Mini Tote, I still have room for an apple or maybe some other snacks. I can't begin to utter the joy and satisfaction I feel swinging my mini lunch tote while commuting to work daily.
Peculiar? Maybe. Quirky? Possibly. Happy? Absolutely. And you should check out my lunchbox ideas if you'd missed the posts. Another series is on the way but meanwhile, here are just a few lunchboxes I've prepared for drools. (^_^)

© www.vivawoman.net copyright notice ☺
______________________________________________________________