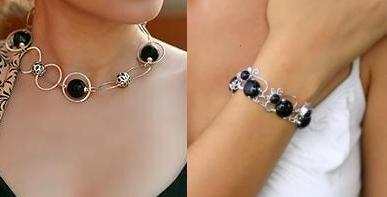 Black onyx are cloaked in an aura of mystery and can make stunning jewelry especially if you are fair.  The gemstone goes with just any color of outfit and can be worn both day and night. 
Such as this Galaxy Onyx Choker
and Mysterious Cat Onyx Bracelet
 set in sterling silver with a contemporary touch make such an outstanding statement. 
Each exudes their own unique elegant charm and looks great as a combination or on their own to parallel the  hottest fashions detailing cool, sleek and sophisticated.