DIY Beauty: oat mask for smaller pores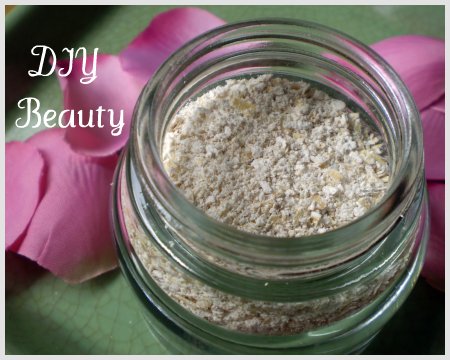 I am so loving my oats now!  Mixed with yogurt, it makes the best facial mask and delivers instant wonderful effects for me. 
Benefits of oats for our skin
Oats possess some wonderful skin care properties because they have the best amino acid balance of all cereal grains and a high silica content, making them great emollients that restores the skin's natural moisture.  They are also said to be highly absorptive, hypoallergenic, and can be used to cleanse, exfoliate, soften and soothe the skin; suitable for most skin types.
In fact, oats have been clinically proven to help heal dry, itchy skin and you may have come across information of ancient Greeks and Romans using oat baths to heal skin ailments.  In modern days, many people use oats to soothe the skin and ease the discomfort of skin irritations caused by rashes, abrasions, insect bites, poison ivy, and even chicken pox.  Modern manufacturers like Aveeno and Aveda for example, have also used oats as a common ingredient for their skin care products.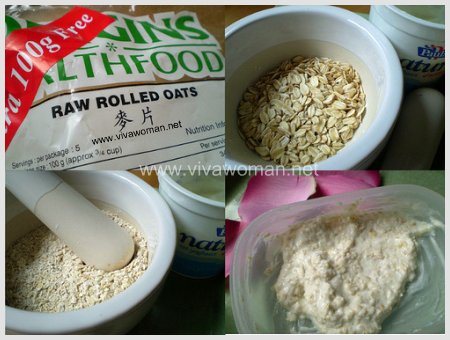 Oat mask to reduce pore size
I recently picked up this oat yogurt mask recipe from the book, Natural Beauty by Roy Genders which is supposed to help reduce large pores and clear skin of impurities.  The benefits of oats plus the the lactic acid and enzymes in the yogurt soothes, softens and hydrates the skin, leaving it soft and smooth.  I love it because it is so easy to make and use and my skin really benefited from using it.  Even my husband noticed a difference.  My pores look smaller, though I don't think it's just due to this because I've also been using cucumber juice daily but there is something better about my skin texture for sure.
Recipe for Oat Mask:
– 2 tablespoon of oats/oatmeal
– 2 tablespoon of yogurt
Stir oats or oatmeal into yogurt and place in the fridge for several hours.  Apply the contents thickly to the face and leave on for 30 minutes before rinising off in lukewarm water containing a little lemon juice (I skipped the lemon juice and just kept to lukewarm water though).
Don't get the quick-cook or flavored versions of oats though. Use rolled oats which you can then blend into powder. Because I don't have a grinder, I use the mortar and pestle to achieve the same results. As for the yogurt, I used the 99.8% fat free natural set yogurt from Pauls which is available from the supermarket.
Other homemade oat skincare recipes
Another cleansing and softening facial mask recipe you can try is to have oats mixed with honey and plain yogurt into a paste, apply to dampened skin and leave on for fifteen minutes before rinsing off. You can also try the oatmeal facial cleanser & scrub by simply pouring a small amount of ground oatmeal into palm, and add a little water to make a paste. Apply to face and throat and massage onto skin before rinising out and moisturizing.
Pleasant smell and easy application
In my last entry about yogurt homemade beauty recipes, I mentioned that yogurt do not smell great.  But with oats, the smell is different and I quite like it.  And what I love most is that I can walk around in this mask because oats and yogurt are thick enough to form a binding paste.  I have combination skin and I've been using this mask almost everyday with lovely results.  Definitely something I recommend you to try if you're into DIY beauty!

Comments