Do you think one can be natural and yet unique? Afterall when you think of the word unique, it usually means one doesn't quite blend in but rather stand out isn't it? But I like to think that some people just look unique without having to try too hard and it could even be just one feature that makes them stand out from the rest. Come to think about it, not all our celebrities have perfect features all round, but many of them do have unique features, which could be something as simple as a bright smile, a lovely sparkle or a radiant glow.
Watsons You Awards 2009
Anyway, the reason why I am writing about this topic is because I'm doing a plug for Watsons You Awards 2009 which is a celebration of uniqueness and individuality. This is the second year Watsons is organizing this award and this time, it is BIGGER and BETTER! Bigger because there are 8 categories to enter and better because each category winner of the YOU Award will win S$2,000 cash, 1-year supply of attractive product gifts and a 1-year modelling contract with GLOW magazine. Talk about being instant Watsons celebrities!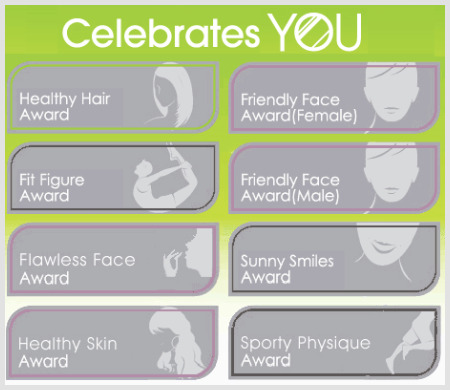 Recruitment from 15 May to 10 June 2009
Recruitment is on from now till 10 June 2009 and both male and female above 18 years old can enter.  Simply make any purchase from Watsons to enter the category or categories of your choice. You are to submit a close-up picture of your unique feature, a short write-up about it and a recent full length photo of yourself.
| | |
| --- | --- |
| Awards Categories | Category Description |
| Healthy Hair Award | for hair that gives you confidence throughout the day |
| Fit Figure Award | for the body that is taut, toned and full of energy |
| Flawless Face Award | for a face made amazing with make-up magic |
| Healthy Skin Award | for a skin that glows with health and radiance |
| Friendly Face Award (Female) | for the face that speaks the universal language of friendship |
| Friendly Face Award (Male) | for the face that speaks the universal language of friendship |
| Sunny Smiles Award | for the smile that lights up the room when you walk in |
| Sporty Physique Award | for the body that loves exercise and the great outdoors |
Pick up a You Award leaflet at the store for a discount coupon
I'm sure some of you out there have what it takes to participate so don't doubt yourself!  You can even encourage your friends to participate if you find them having unique features.  For more details, check out Watsons You Award website. Alternatively, you can also go to any Watsons store to pick up a You Awards leaflet for more information.  In fact, I'm going to pick myself a leaflet – not to participate – but because there is a coupon on the leaflet which will entitle me to a $5 discount with a mininimum $50 purchase! Heh.
Voting from 18 June to 1 July
Winners of the categories will be chosen and eight voters who voted correctly for the correct category winners will stand to win attractive product hampers each worth up to $50 in value and a $100 Watsons Voucher! Personally, I'll be quite keen to check out participants of the Healthy Skin & Flawless Face award and it should be interesting to vote for them later! 
Well, if you're keen to participate in any of the categories but want some last minute polishing before doing so, remember to check out some of my DIY recipes on keeping your teeth a shade whiter or how to keep your skin glowing with simple homemade masks.  GOOD LUCK!