Is it better to wear lesser makeup in the day?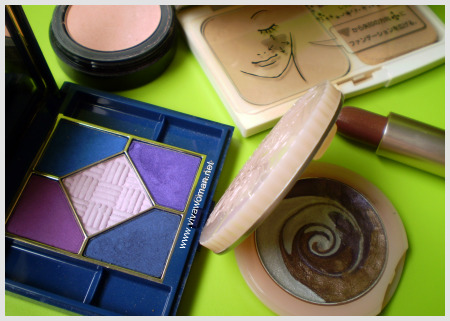 At the True Beauty Open House Workshop last Saturday where Managing Director Susan Foo provided us with an insightful discussion about All Natural Skin Care Vs Commercial Counter Products in the Market, I  learnt that our makeup can absorb more energy from the sun and possibly lead to color toxicity and pigmentation problems.   According to Susan, the chemical colorants in makeup can give our skin an uneven, sallow tone – something I remember my mom telling me when I was younger.
Wear sunscreen beneath your makeup & cleanse thoroughly
As usual, I gave some thoughts to the topic and also tried to find some information related to this.  Unfortunately, I didn't find anything on this online.  But I thought about how this might be related to the simple fact that dark colors absorb energy from the sun while light colors reflect energy from the sun.  Okay, I could be entirely off-track here but going by what Susan has said, this could also be a reason why wearing thicker makeup might be better in the night vs the day. Of course this doesn't mean you can't wear your makeup in the day. Just keep it lighter unless thicker makeup is absolutely necessarily and ensure you have a good sunscreen beneath to protect your skin. And very importantly, you must always remove your makeup and cleanse your face thoroughly!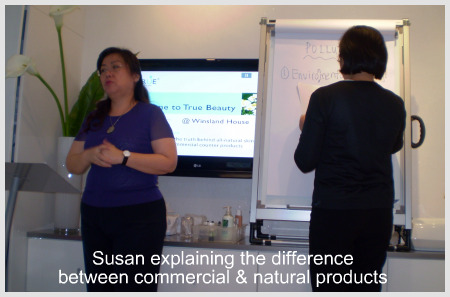 Harms of artificial fragrances and alcohol
Besides the discussion on cosmetics colorants and their consequences, we also learnt about the harms of artificial fragrances and alcohol on our skin.  According to Susan, products with perfume or fragrances speed up the aging of our skin by preventing the removal of dead skin and hindering the development of new cells.  Alcohol on the other hand, weakens our skin immunity and causes open or slacken pores in the long run. 
Beewax for lipbalms and lipsticks only
In addition, I learnt that beewax, while a natural ingredient, is really not good for our skin as it can clog pores because it is a form of impermeable oil. The fact that it has to be heated at high temperature for it to be melted into an ingredient mix also means the product is unlikely to have anymore live cells to benefit our skin. So beewax is really only good for lipbalms and lipsticks!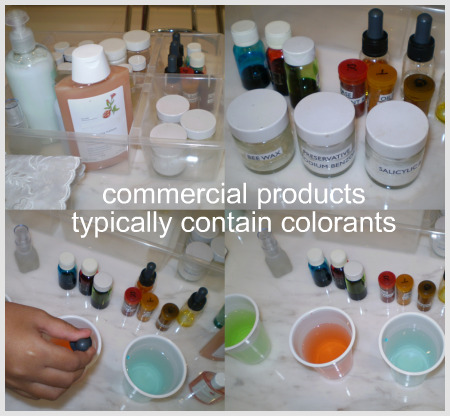 Demo on how commercial products are made
The workshop was a small group of less than 15 people and I met Yosita, who recently left me comments regarding her positive experience at True Beauty. I also met her adorable daughter as well as her friend and her nutritionist. We had an enjoyable time learning from Susan and there was also a demonstration session where Susan showed us how commercial products are made with colorants, fragrances and alcohol. Of course we also got to check out some of the natural oils that were used in her True Bio Skin Care products too.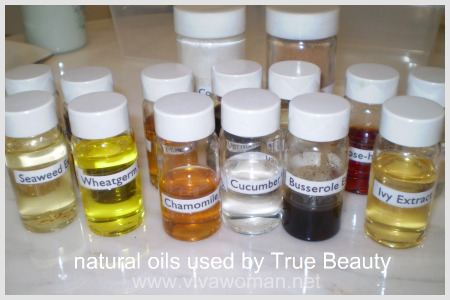 Month-long open house promotion
Since it was an open house workshop, of course Susan didn't forget to remind us about their month-long crazy promotion. On top of getting 50% off her facial service and paying only S$55, her products are also on discount.   If you like to know more about their facial service, you can read my review of the natural facial spa experience at True Beauty.
Well, I still can't afford her entire set but I think I might just go for her best selling Active Eye Gel after learning that Yosita got rid of her dark circles in just three days of using it. It will cost me around $179 after the 15% discount and that price for an effective eye cream is justifiable in my opinion.  Well, I'll definitely keep you all in the loop in due course!
Comments