Viva Challenge: take your vitamin C daily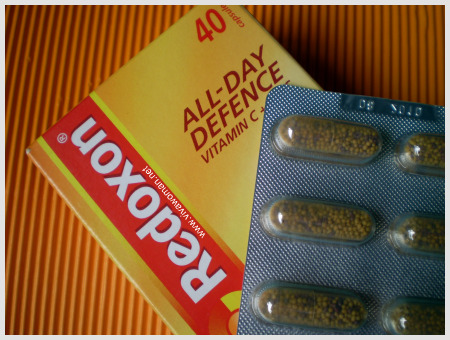 One of the things you can protect yourself from the swine flu threat that is putting everyone on tenterhoooks is by strengthening your immune system such as consuming a supplement of up to 500 or 1000 milligrams of vitamin C daily. In addition, oral intake of vitamin C supplements act as an antioxidant to neutralize potentially damaging free radicals and help promote the production of collagen in the skin. I have also read that combined with vitamin E, vitamin C supplements can also protect our skin from sun exposure. And if you are using topical vitamin C skin care products, you're are actually getting double skin care goodness!
Have a consistent daily intake of vitamin C
While it's good to ensure that your diet is rich in vitamin C by consuming more citrus fruits and vegetables rich in the vitamin, you still need to consider taking a vitamin C supplement especially since our body does not have the ability to produce vitamin C on its own. In addition, vitamin C cannot be stored in the body for any length of time so you need to have a consistent intake daily.
Slow release of vitamin C for all day defence formula
Personally, this is one vitamin I must always take because I work in an enclosed environment with a big group of people on a daily basis. I like the Redoxon All-Day Defence Vitamin C + Zinc formula because it is specially developed with advanced micro granules that keep releasing Vitamin C into our system for up to 8 hours, from morning until evening. So far I have found it to be very effective in keeping the flu bug at bay.
Check for allergies to vitamin C
However, do be aware that some people are allergic to vitamin C. Unfortunately, my husband falls into this group. He can take natural forms of vitamin C but he doesn't take too well to the supplements. So if you're in this category, you are probably not suitable to consume the vitamin C supplement. But for the rest of you, are you taking your vitamin C on a daily basis? If you're not, it's probably time to start now.
Comments