Will double cleansing dry up my skin?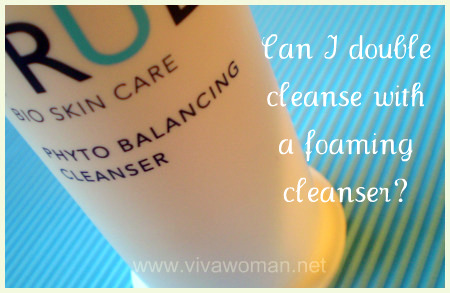 Most of you are probably quite familiar with double cleansing, which typically involves using a cleansing oil or cleansing cream to remove makeup, followed by using a foaming facial wash.  This is a popular cleansing method because doing so ensures that our skin is totally free of makeup, impurities and dirt.  However, is it also possible to double cleanse using a foaming facial wash?  In fact, some foaming cleansers specifically give instructions to wash the face twice – once to remove the makeup and another to ensure all traces of impurities are removed.
I've always used the first method – that is using a cleansing oil or cleansing cream first before using my facial wash. However, I sometimes double cleanse with my foaming cleanser, especially when I wear a water resistant sunscreen.   And the question I always get is, "won't this dry up your skin"?
Foaming cleansers should be free of SLS & alcohol
Well, no because the foaming cleansers I use are gentle and are free of Sodium Lauryl Sulfate or Laureth Sulfate (SLS) as well as alcohol.  Hence, there are no worries of having the natural lipids on my skin stripped.  My skin certainly does not feel sqeaky clean or tight after washing, so that's a sign that the double cleansing isn't drying up my skin.
Foaming cleansers with low SLS concentration
If you're using a foaming cleanser that contains SLS or alcohol, then I certainly wouldn't advice you to subscribe to this matter of double cleansing.  You're perhaps better off sticking to an oil cleanser or cream cleanser first to remove your makeup.  However, some cleansers like Ceptahil which contains lower concentration of SLS is also quite gentle and maybe suitable enough for double cleansing.  
Don't cleanse eye makeup too well
The only gripe I have about using foaming cleaners to double cleanse is that it does not always take off eye makeup that well.  Hence, I still prefer using an oil cleansing oil to remove my makeup. 
What about you?  What's your cleansing preference?  Please share!
Comments