More doctors endorsing natural skin care?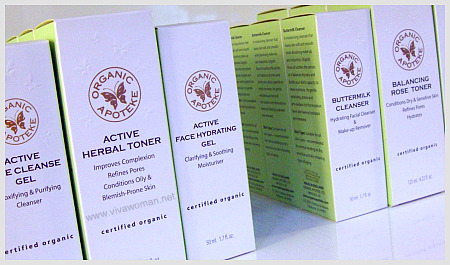 I get the general feeling from our local media that dermatologists and aesthetic doctors as a whole are not keen on natural or organic skin care products. A dermatologist I consulted awhile back even snubbed at my choice of using such products, labelling them as useless. So I was surprised to learn of organic and natural products that are endorsed or created by medical skin care professionals.
Sophyto and Organic Apoteke
Sophyto was the first organic skin care product I came across that is endorsed by dermatologists. Then I learnt that Organic Apoteke, a certified organic cosmeceutical range for face and body, was developed by Dr Nitasha Buldeo, a medical doctor of Homeopathy and of Ayurveda. What's interesting about this range is their use of a revolutionary Nutrient Delivery System that promises maximum efficacy when the products are applied on our skin.
Henry Tianus
While speaking to Grace of Geranium who distributes Henry Tianus Advanced Natural Cosmeceuticals here in Singapore, I also found out that their range of products are being carried and used at CeleVenus Medispa & Aesthetic Clinic, located at The Central.
La Soie
And what's interesting is that Divine MedSpa, which I visited sometime back, is also carrying La Soie, a range of 100 per cent all-natural skin care products that follow a strict German accreditation system. More noteworthy is that the products are developed using a unique silk-nano gold complex by conjugating nano sized gold particles with silk protein which is highly compatible with skin cells and provides several benefits of both silk and gold. 
Increased numbers intolerant to chemicals
I was curious and asked Dr Christine Cheng, Aesthetic Director of Divine MedSpa, about her interest to use natural skin care products in her treatments. According to her, conducting food intolerance testing to identify foods that cause weight gain for the individual led her to notice that the number of people intolerant to chemicals has been increasing over the years.
"Skin sensitivity is an issue that is becoming more common place. Plus the absorption of toxic chemicals resulting in cancer and chronic disease is also becoming more recognised. Many commercial brands regardless of price & reputation also use petroleum deriviatives which can clog up pores very easily. Who knows how much of the acne problems are caused by these?"
Dr Cheng further revealed to me that because of her profession, she needs to test out numerous commercial skincare products and that made her realized the great variance in the quality of commercial products. In fact, she mentioned that she and her staff "have been nursing oil slick complexions and eruptions since the trials began. Some staff have even developed redness after just one use."
Products need to prove their worth
It is probably too premature to conclude that more medical skin care professionals are embracing natural or organic skin care products to treat their patients' skin conditions but it does look like natural and organic skin care products are receiving more positive attention from the group.  However, unless the products do more than merely sit on top of the skin's surface, many dermatologists and aesthetic doctors still consider natural and organic products more of a marketing hype as compared to medical-grade treatment products. So what I can say is that I would definitely have more faith in the product if it was recommended by a dermatologist or aesthetic doctor because it means it must be able to provide some visible benefits.
What about you?  Do endorsements from doctors or other medical skin care professionals make a difference to you in choosing a skin care product?
Comments