Facial exfoliation tips for sensitive skin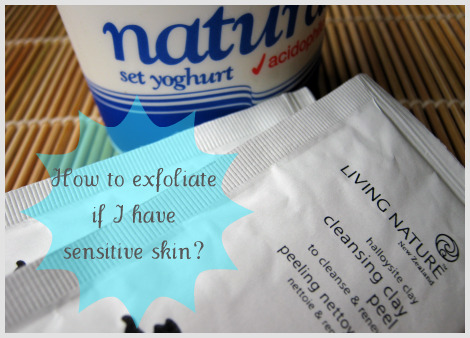 I often get questions about exfoliation from those with sensitive skin. Because of their skin profile, they do not want to use mechancial exfoliation via a facial scrub or chemical exfoliation using AHAs, BHAS, retinoids, fruit enzymes, salicylic or glycolic acid as they find such products too harsh for their skin. So for these women, what are the options? 
Following are exfoliating tips for sensitive skin based on what I've read as well as from personal experience:
Using a wash cloth
Some skin care experts such as Leslie Baumann actually suggest that people with sensitive skin should not exfoliate and instead, use a soft wash cloth to slough away build-up and dead skin.  This works well but just remember to keep your wash cloth clean and free from bacteria.
Using a diluted facial scrub
In her book, The Japanese Skincare Revolution, Japanese skin care guru Chizu Saeki recommended this technique of diluting the regular facial scrub with facial soap and a few drops of lukewarm water to whisk away dell skin cells on our face.  By doing so, you will find that the scrub is less abrasive for your sensitive skin.
Using gentle skin peeling products
Products such as the Living Nature Cleansing Clay Peel or the Cure Natural Aqua Gel may be solutions for those who do not want to use any form of facial scrubs. In the former, all you need to do is to apply the Cleansing Clay Peel, wait a minute or two and then use your fingers to roll the slightly damp clay off. I've used the product as well as others similar to it and I always find my face glowing afterwards. As for the Cure Natural Aqua Gel which I've not tried, I understand that it is a safe and gentle exfoliation gel comprising 90% water and is very suitable for sensitive skin. How it works is that the product regularizes your skin turnover by gentle peeling, removing dead skin and necessary proteins, making your skin smoother, brighter and softer.
Using homemade remedies
I often recommend yogurt to those who want to exfoliate their face without using any facial scrubs because although it contains lactic acid which is an alpha-hydroxy acid, the ingredient is so mild that even sensitive skin can use it. You can also make a very simple scrub with oatmeal or strawberries that have a natural acid that helps to dissolve dead cells. Just mush it all up, rub it on then rinse off.
Comments