Do products sold in salons have better efficacy?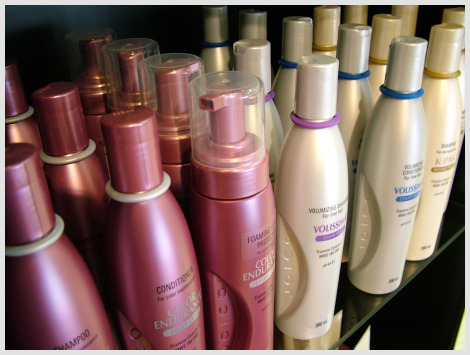 Not too long ago, I was given some branded hair products from a salon and specifically told that I should only use hair products from a professional salon because their quality are better than those from the regular stores.   Is this true?   In case you're wondering, this didn't come from my hair stylist.  He has never said such a thing to me before and would never do. 
Ingredients of products in regular stores not as good?
Although I was doubtful, I tried not to be rude and just kept mum.  Tell it to me when I was younger and I would have bought that completely.  In fact I did, some ten years ago.  You see, my ex-beautician had said the same thing to me, that those skin care products from the department stores were inferior to the products in beauty salons because their ingredients were "not as good".  Perhaps there were some truth in that long time ago but in today's context, I really doubt so. 
More of a marketing strategy and distribution channel?
Sure, some products on the shelves are developed for the mass market and are probably lacking in good ingredients but there are also good products with excellent active ingredients available in the regular stores.   To me, it's merely a matter of a brand's marketing strategy and their distribution channel.  I know for a fact that some brands that are available on pushcarts are also carried by beauty salons. And I don't see much of a difference with hair products. Some brands are just sold via the salons because it's easier to achieve better sales when you have the hairstylist recommending them.  Plus, it makes the brand more exclusive and hence, have "better" efficacy in the eyes of the consumers.
Apart from a few house brands, I don't think it's true that products sold in salon are better than those sold in the regular stores.  I could be missing something though.  What do you think?
Comments