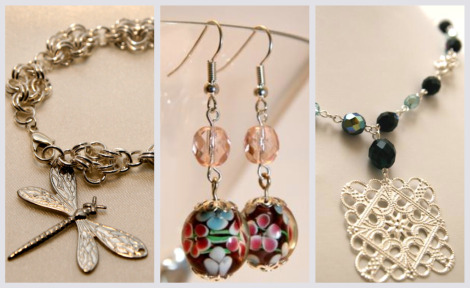 You'll probably be seeing more features on jewelry these few Sundays as recently, two fellow beauty blogger friends set up their online stores to supply one-of-a-kind jewelry and accessories.  My bestie is also doing something on her own and I'll also like to share her work when she's ready.  Today, I'll first introduce Sweet Contemplation Accessories, an online store which is set up by Tine of Beautholics Anonymous! 
Unique and available in limited editions
Gosh, I never knew the girl is such a talent!  She actually designed and made such lovely gems – from earrings, bracelets, necklaces, watches, to even some knitting accessories to be included later.   Like Tine described, each piece of jewelry is unique, and is available in limited editions. 
Special discount and giveaway
Sweet Contemplation Accessories is based out of Australia but ships internationally.  Prices start at A$17 for a pair of earrings and from now till 16 November 09,  Tine is offering a 15% discount on any item in store. Please note that shipping is free for Australian residents, and a flat shipping fee of AU$6 for international readers. Just enter the code LAUNCH09 in the discount box. 
In addition, Tine is offering a giveaway to celebrate the launch of her new shop too.  Just head over to her blog via the link given above to check and participate!