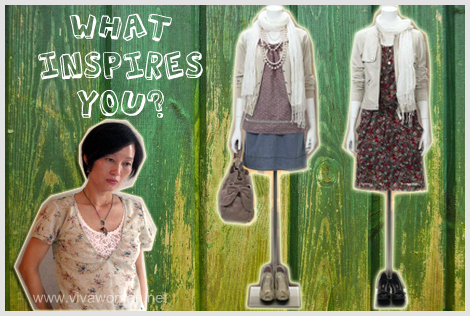 One of my goals this year is to spice up my weekend wardrobe. I'm going to vary my style more, and be a little more dressy (read: spend more on clothes).
I find that one of the issues I face, besides the brickbats from my husband, is the issue of dressing age-appropriate. On one hand, I don't want to dress like the young girls but on the other hand, I don't want to look like an aged auntie. So even though my thighs are much slimmer now and I can afford to show some legs, I just don't think mini skirts are for me anymore.
Anyway, I'm keen to know if you have any fashion inspirations? Is there any style you particularly like or find suitable for yourself? For me, it's definitely Japanese. Not their outrageous street fashion but the pretty but elegant style of the Japanese women. Rather understated, but nonetheless chic and whimsical. I think I can dress along that line, especially since I'm on the petite side.
(But I probably need to get myself nicer shoes!)
Clothes featured from Kumikyoku Japanese website.