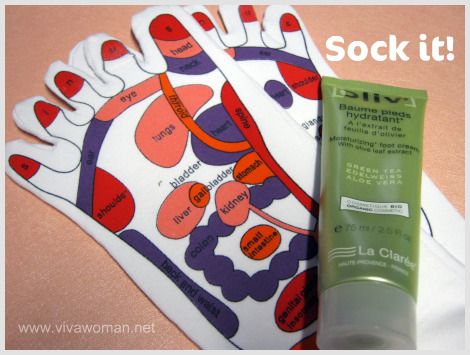 It's amazing that our feet do so much for us every day and yet do not receive sufficient tender loving care. So this week's challenge is to give your feet some attention every night. Actually, I've been neglecting my feet for awhile now and so the real reason for this challenge is that I need some rallying for the cause.
Promote penetration of foot cream
This challenge is very easy. Just apply some foot cream every night and put on a pair of socks before heading to bed. Why the socks? Because the snug fit warms the skin and promotes penetration of the foot cream.
Promotes better body resistance
Another reason for the socks is to protect the body from the attack of external cold, as Traditional Chinese Medicine suggest that simple remedies such as keeping the feet warm works effectively. (source)
"Cold starts under the feet" – the feet on the most far part of the body from the heart with the least blood circulation and the lowest temperature. When the feet get cold, it affects the upper respiratory system and impairs the body resistance. This may in turn leads to common cold, upper respiratory infection, abdominal pain and painful period, even cardiovascular diseases.
In fact, it is even encouraged to soak your feet in a hot tub of water nightly for 20 to 30 minutes but I guess not everyone is able to achieve this. Well, I know I can't.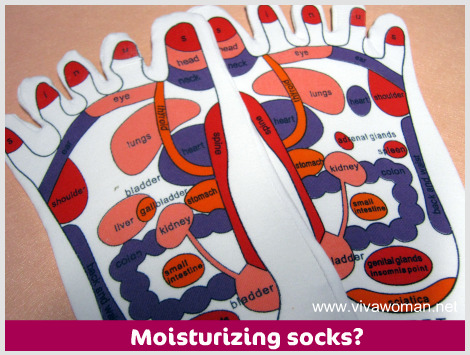 You can use any pair of socks to achieve this challenge. But I found these cute ones at Watsons. Dubbed the moisturizing socks, it actually has locations of the meridian points of our major organs. Kind of cute aren't they?
Other ways to pamper and care for your feet
There are other things you can do to care for your feet other than applying foot cream and putting on a pair of socks of course. You may want to consider indulging them in a tub of epsom salt foot soak once or twice a week. You can also use an exfoliating scrub to get rid of the dead skin, plus use a pumice stone to get rid of hard skin amongst other things.
The bottom line is: care for your feet!