Getting sun protection from natural ingredients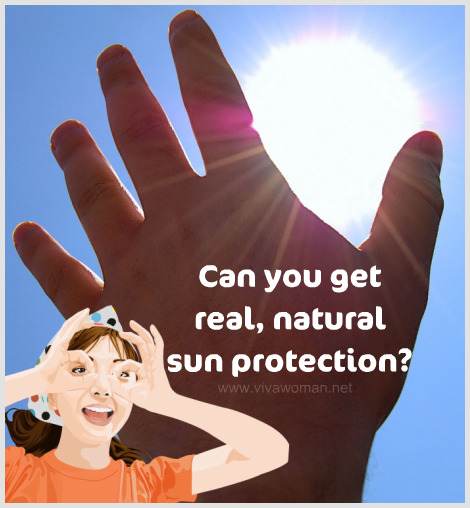 Denise posted a comment in my entry regarding homemade natural sunscreen and asked if there are more natural substitutes of sunscreen filters or blockers and I thought I'll like to address this in a separate post.
While zinc oxide and titanium dioxide are always stated to be natural sunblock ingredients, they aren't natural in the true sense and are still chemical compounds.  So strictly speaking, none of the sunblocks or sunscreens which use even just one or two of these ingredients are considered as 100% natural.  So for those who want the most natural sun protection, what other ingredients can they get from and will those be sufficient?
Red Raspberry Seed Oil provides broad spectrum UV protection
You can derive sun protection from various plant oils.  From my readings, it appears that Red Raspberry Seed Oil provides the highest broad spectrum UV protection against both UVA and UVB rays because it contains exceptionally high levels of alpha and vitamin E, vitamin A, omega-3 and omega-6 fatty acids. Some sources stated that Red Rapsberry Seed Oil has SPF as high as 28 – 50 and equal to that of titanium dioxide. However, even if the information is accurate, I have no idea how much Raspberry Seed Oil you need to apply on your skin to get that amount of protection. In addition, the usage of Red Raspberry Oil on the skin is not the equivalent of using a properly formulated SPF product since many factors are involved in how a product works as a sunscreen including absorption rate and viscosity of the formulation. But you should be happy to know that you'll get added sun protection if you find this ingredient in your skin care products.
Other oils with SPF properties
In addition to Red Raspberry Seed Oil, the other ingredients that provide natural protection against the sun are listed as follows:
Hemp Seed Oil – SPF 6
Macadamia Oil – SPF 6
Sesame Seed Oil SPF 4
Shea Butter – SPF 4
Jojoba Oil – SPF 4
Coconut Oil – SPF 2
Sources: Sunblock & SPF, UVR Protection
However, again I have to stress that the SPF level indicated is extremely variable, depending on how and how much the ingredients are used.
Green and White Tea Extracts provide low SPF protection
I also found this study which indicated that green tea extract has an SPF of 1.05 and white tea extract has an SPF of 1.21 through a test carried out on 90 subjects.  But green tea is a great antioxidant because it is high in polypheols and so using it topically can help fight free radicals.  In addition, drinking lots of green tea will also  provide internal protection from UV radiation too.
So to answer Denise's question, yes, there are natural ingredients that provide some level of sun protection.  However, taken individually, each ingredient provides very low or variable UV protection.  But you will be happy to know that if you're using a lip balm made mainly with Shea Butter, Jojoba and Hemp Seed Oil, you're actually getting some level of sun protection.

Comments