What's your favorite cosmetics packaging?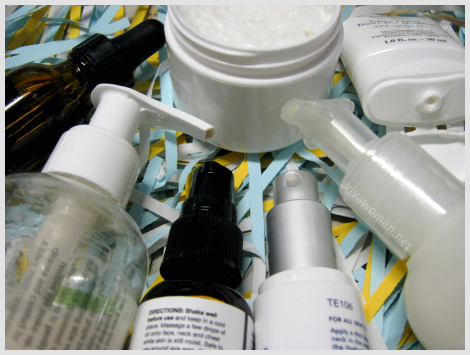 I have a few body lotions and cream in my stash but I noticed that I've been going back to one that comes in a pump dispenser plastic bottle in particular. Not that I like it the most, but rather, because it dispenses the cream more quickly, I find it more convenient and less time consuming to use. Although I really prefer the cream in tubes, but I've been less motivated to use them because the thought of having to hold them, open the cover, and squeeze out the cream kind of turn me off. You can say I'm just being lazy! Anyway, today I'll like to discuss my thoughts on the different cosmetic storages for skin care products that I've come across.
The best: glass or acrylic bottles with airless pumps
Because I use mostly natural and organic skin care products, I'm quite particular about the packaging of the products and there are a few things I look out for. I like products that come in dark glass storage as they are able to preserve the integrity of the natural formulation better. Best if it comes with an airless pump dispenser as compared to a standard pump that uses air to evacuate the liquid or lotion, an airless pump means the natural product is less likely to degrade so quickly and without preservatives, you can keep it for a longer period. In addition, airless pumps can also evacuate more of the lotion compared to a non-airless pump. Plus, not having to open the bottle at all means the the potency of the formulation remains longer. While I do use products contained in a glass bottle using a dropper, that packaging is less ideal as I've to open and expose the contents to the air every time I use it and contamination can also result because of the exposure. However, glass bottles are not without problems. They may break and it's inconvenient to bring them around. So the next choice for me would be acrylic bottles with airless pump as they're fairly light and far more convenient to carry around.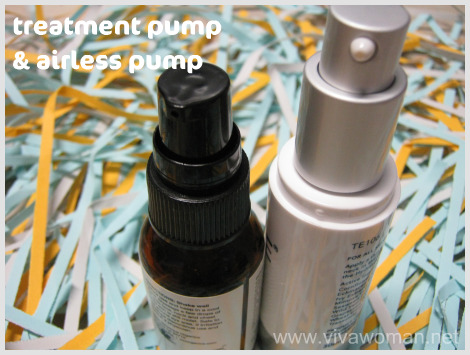 The worst: plastic bottles or cosmetic jar
When it comes to skin care, plastic is the worst to me as the potency of the formulations would diminish more quickly since plastic is porous. I wrote about this in my earlier entry glass is better for storing natural formulations . But the worst has to be products in cosmetics jar as not only the potency of the ingredients can degrade far more quickly each time you open the jar, you may also risk product contamination due to the packaging. Highly unhygienic and definitely a big no no for products that come packed with lots of antioxidants since you'll get lesser benefits from them each time you open the jar!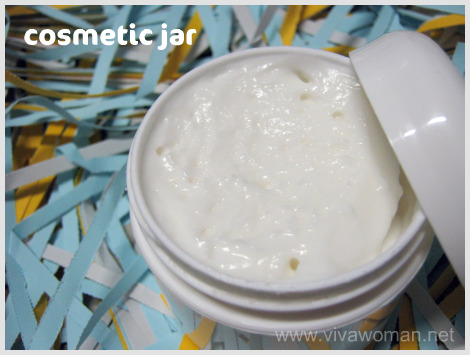 Pump dispensers and tubes
As for the body lotion I'm currently using, it comes in a plastic bottle with a pump dispenser. Although it's more convenient to use, but I find that I sometimes get a hard lump of cream because they get trapped in the dispenser. The other problem is, the pump don't always work flawlessly. As for tubes, they sometimes make a big mess when too much get squeezed out. I guess in both cases, it depends on the viscosity of the lotion. For those that are too viscous and don't flow well, a lot of the product will also be left in the bottle or tube and they may be wasted if you do not try to get them out. But surprising, for bathing and shampooing, I much prefer bottles using caps with an opening although I agree that a dispenser is more convenient. I suspect it's because of the placement of the products in my bathroom.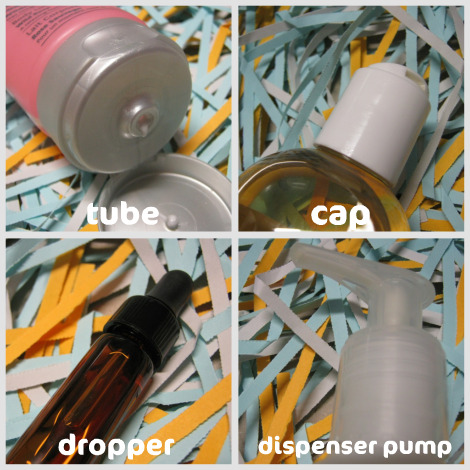 Overall thoughts
I'm more particular about packaging for skin care products used on the face compared to the body though. I also tag the price of the item to the quality of the packaging. If the product is expensive, I really expect top-notch packaging that can preserve the integrity of the formulation. I'm much more forgiving if the product is cheap and packs less antioxidants. So I am more comfortable if formulations that tout skin care goodness and includes a lot of antioxidants come packaged in a dark glass bottle or an acrylic container with an easy to dispense top so that I won't have to open the container to expose the ingredients to light or air. The only disadvantage is, I can't see how much product is left. I'm fine with my body lotions and cream being contained in a plastic tube or bottle. However, you can be sure I'm not going to put my money on a facial skin care product that claims natural goodness packed with high quality ingredients and is blardy expensive but is packed in a plastic open jar! But come to think about it, I did pay for something like that years ago…it wasn't plastic but more of an acrylic container.
So what's your favorite type of cosmetics packaging?
Comments