Viva Challenge: identify your beauty nemesis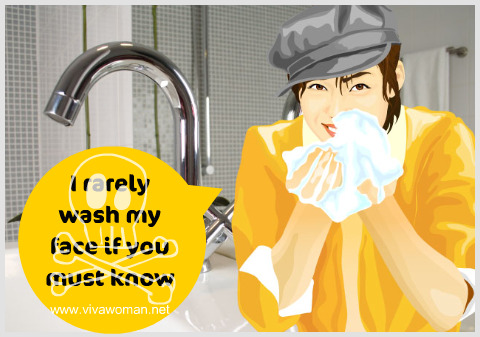 I have been receiving a number of emails from readers who want me to advice them on the right products to use on their skin. Most of the time, these readers also have issues with acne. It's very hard for me to suggest products for others to use especially when I do not know their skin type or understand their skin condition completely. In addition, I feel that products may only address these skin issues superficially as most of these problems are caused by deeper, underlying issues. Hence, I thought it's a good idea to take stock of what's our biggest beauty nemesis if we all want to have better skin. To get started, you need to identify what's your biggest beauty concern and what you think is causing that problem.
Personally and I believe for others as well, harmful UV rays from the sun count as the topmost beauty nemisis. But that aside, here's three of my biggest beauty nemesis:
Poor digestive system
As some of you know, I was breaking out frequently just two or three months ago. Since having my detox and changing my diet to include probiotics and fiber as well as avoiding processed food and sugar as far as possible, my digestive system has improved tremendously and my breakout has been under control. I still have the occasional pimples, but I no longer feel so agonized. In fact, when I see people plagued with acne, I really feel an urge to ask them about their diet.
Lack of sleep
Last week, I was struggling with my time and was in bed after midnight for most of the nights. The lack of sleep was taking a toll and the signs were telling on my face. My skin was also getting oilier but thankfully, I had no breakouts. This week, I've been able to sleep quite early by around 11pm and I can see a remarkable improvement; at least the dark circles under my eyes are not so evident.
Stress and unhappiness
My skin becomes dull and awful when I'm feeling stressed and unhappy. It doesn't matter what I use on my face; there's no glow nor radiance no matter what the products promise. In fact, I have to admit that I looked crappy when I was having my breakout because I was also terribly unhappy and upset with my skin.
Now over to you: what's your beauty nemisis?
The thing about a nemesis is that it's something we cannot conquer. But if we can at least identify them, then there's a chance of trying to at least avoid their paths. (read: if we cannot conquer them or avoid them, then we just have to join them)
© www.vivawoman.net copyright notice ☺
______________________________________________________________
Comments