Smile and stop fretting over the imperfections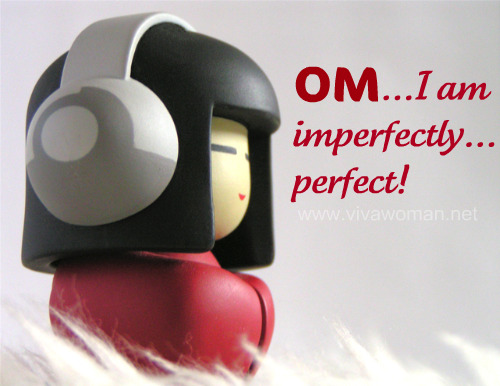 I was reading an article about female pattern hair loss this week and I was suddenly swarmed with past feelings of insecurity and humiliation. Since 18, I've struggled with the possibility that I was losing hair on my crown and at that time, I desperately sought all sorts of treatments to improve the density. I've tried many commercial brands of hair loss treatments, I've seen dermatologists and trichologists, and I've even rubbed brandy soaked with dried morning glory on my scalp – all to little avail. I hated to visit the hair salons because the brainless hairdressers would always point out the fact that I have very little hair, and the way they said it, it was always meant to bring shame to my head. And because I was so afraid they would do something nasty to my hair, I would always accept their words in silence, although in that case, silence did not mean consent nor acceptance.
Yes, those were the painful years. I think there was a time I had fleeting thoughts of suicide because of the pain. I'm not kidding. It got so bad that I was so conscious of how people were looking at me. If they were talking to me, I would imagined they were looking at my head. I detested talking to people who stood over me or were taller than me. Unfortunately, I didn't have much choice because I didn't have that many friends shorter than me. GAH. And I also had to deal with those dumb duds with ZERO EQ. Once, I had this guy friend pointing out in front of everyone that I had very little hair! I almost wanted to turn around to pull out his hair. Another time, a male colleague publicly joked in my absence that I could have been the company's belle if I had more hair. I hope both men have become bald by now and to top it off, have ringworns on their scalps!
Today, while I'm still conscious of my hair, I'm no longer insecure about it. I don't know when but I finally resolved the feelings of insecurity. Nah, no psychologist was involved. No hair transplant either. And heh, no Yun Nam consultation. My hair just stayed constant or maybe they grew a little more over the years…I'm not too sure. I think I got emotionally exhausted with all the negative feelings and realized that it was no use constantly worrying about my hair. Then little by little, I got over all those insecurities and if someone commented about it now, I just smiled and concurred. I just made sure I styled my hair neatly and I always use a dry shampoo to boost the volume. It also helps that my hairstylist is very good; he always gives me a good haircut that doesn't accentuate the problem area and he would even advice me on the hair colors I should avoid so as not to enhance the sparseness.
I think we all live with some level of insecurities about ourselves. Maybe it's our size, our shape, our skin or in my case, my hair. It's important to come to terms with these insecurities and address them instead of trying to hide the pain and ignore it. There is no shame in being imperfect. But if you let the insidious feelings overwhelm you, then it can become a lot more toxic and destructive. There is always hope in becoming better; maybe the hope comes with some experiments or maybe with money you need to part. Well, even if nothing works, know that life isn't JUST about how you look. Yes, I won't deny that we'll feel good if we look good but well, sometimes it's just not meant to be. So instead of fretting over the physical imperfections, why not focus on the positives instead? Improve your speech, improve your intelligence, perfect a skill, or learn to be humorous! Self confidence can make you look a lot better too and remember, at the end of the day, it's about how you feel and think about your own self worth as well.
Have a lovely Saturday everyone!
Comments