It's Thursday & let's bring on Thursday Plantation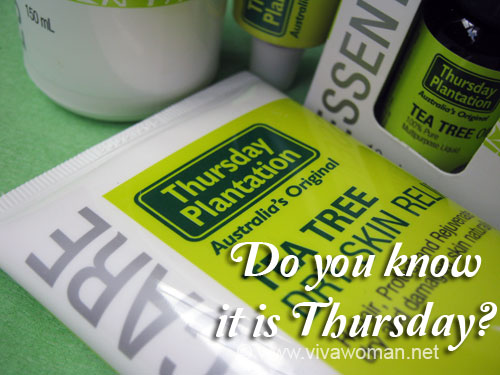 I know. That's a corny title but come on, if it's Thursday today, the weekend is just around the corner! Heh. But certainly, Thursday Plantation is anything but corny. In fact, you might like to know that Thursday Plantation is the world's first scientifically developed Tea Tree plantation located in Bungawalbin Basin, Australia. I didn't even know that they have a full range of products that are said to be naturally derived; free from parabens, petrochemicals, propylene glycol, laurly sulphates, polysorbates, synthetic fragrances, synthetic colours and animal derived ingredients with at least 70 per cent certified organic. I used to see their tea tree oil in the pharmacies here and did recommend the product to a few readers even though I've not tried it myself. Well, the reason was that I used to get my source of tea tree oil from another supply.
New products from Thursday Plantation introduced in Singapore
Recently, I noticed that they've expanded the range to include a few more products and was thinking of getting them when their media representative contacted me about reviewing their products. So I said yes and shortly after, received four items complimentary from the company – Tea Tree Oil, Tea Tree Blemish Gel, Tea Tree Daily Face Wash and Tea Tree Dry Skin Relief.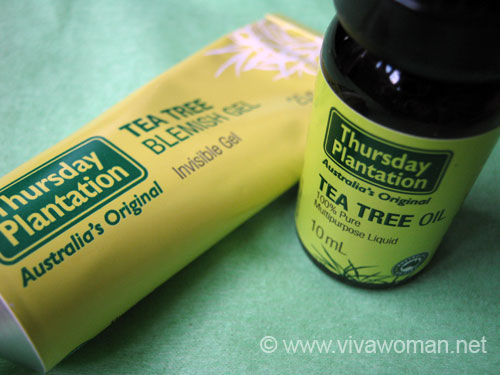 Thursday Plantation Tea Tree Oil 10ml S$13.80
Because I still have like two bottles of tea tree oil on hand, and so I did not try this oil at all. What I've learnt is that this is a naturally sourced antiseptic containing 100% pure Tea Tree Oil. Said to be the first brand to exceed the International Quality standards for tea tree oil, this product has superior antiseptic properties and provides great antibacterial and antifungal actions. Hence, you can use it to aid healing of minor wounds, skin irritations, cuts, scratches and insect bites. A drop of two of the oil can also be added to your regular shampoo to help with dandruff control. I've been using tea tree oil to help with some of my acne issues but I find it best for controlling skin itches and also body odor. I sometimes add two drops to my baking soda mix, which I use as a natural deodorant. The smell is no doubt very strong but it also dissipates pretty quickly.
Rating: none because I didn't try it.
Thursday Plantation Tea Tree Blemish Gel 25g S$10.55
Ingredients: Aqua/Purified Water, Polysorbate 60, Melaleuca Alternifolia (Tea Tree) Oil, Alcohol, Isopropyl Myristate, Carbomer, Triethanolamine, Camphor, Limonene.
I hardly use blemish sticks. Perhaps the last one I used was from Lavera but because I can't find the product anymore, I'm just using my oils to control my acne. What's good about this blemish stick is that it is formulated without Benzoyl Peroxide and hence, it is more gentle. I can't say that it is very effective for me because I applied it a few times to a pimple on my forehead, I noticed that while the pimple did subside and dried up a little, it didn't heal quite as fast as when I use my usual oils. But it might work better for others and since it's so affordable, there's no harm giving it a shot if you're looking for a blemish gel.
Rating: 3 out of 5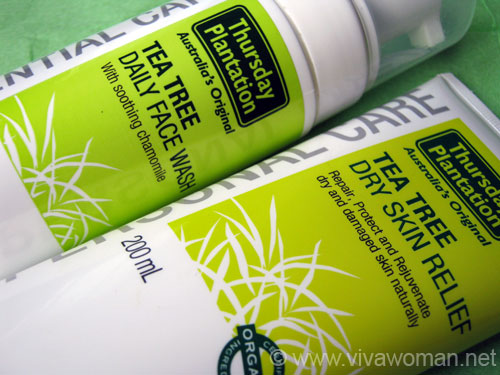 Thursday Plantation Tea Tree Daily Face Wash 150ml S$18.35
Ingredients: Water, Coco-Betaine, Decyl Glucoside, Chamomile Recutita, (Matricaria) Flower Extract, Melaleuca Alternifolia (Tea Tree) Leaf Oil, Sodium Hydroxymethylglycinate, Eucalyptus Citriodora Oil, Limonene.
I was slightly hesitant about trying this product because tea tree based products can be quite drying. However, I gave it a shot anyway. This is a foam cleanser that comes in a pump bottle. Pretty neat, considering foam cleansers are easy to use. It has a strong tea tree smell but otherwise, cleanses well and did not dry up my skin. The smell is strong but it did leave my skin feeling very refreshed though. I don't have too much of acne issues these days so I can"t say if this can really help combat acne and pimples but going by the formulation, is probably good for acne prone skin type. Perhaps someone else who is using this can substantiate my guess. Anyway, after using this for awhile, I passed this on to a girlfriend's daughter with pimple issues.
Rating: 4 out of 5
Thursday Plantation Dry Skin Relief 200ml S$17.45
Ingredients: Water, Aloe Barbadensis Leaf Jice, Hamamelis Virginiana (Witch Hazel) Extract, Cetyl Alcohol, Glyceryl Stearate, Glycerin, Caprylic/Capric Triglyceride, Stearic Acid, Melaleuca Aternifolia (Tea Tree) Leaf Oil, Macadamia Integrifolia Seed Oil, Xantham Gum. Lonicera Caprifolium (Honeysuckle) Flower Extract, Lonicera Japonica (Honeysuckle) Flower Extract, Lavandua Angustifolia (Lavender) Oil, Tocopheryl Acetate, Linalool, Limonene.
This one I like a lot because it does what it claims. I had a bout of itchy skin on both my arms, perhaps due to the non-foaming body wash I was using and this cream provided immediate relief. It's not oily or greasy and is easy to apply but I don't like the tea tree smell as it was pretty overwhelming since I applied on a large area. But fortunately, the smell dissipates quite quickly and so it wasn't so unbearable.
Rating: 4 out of 5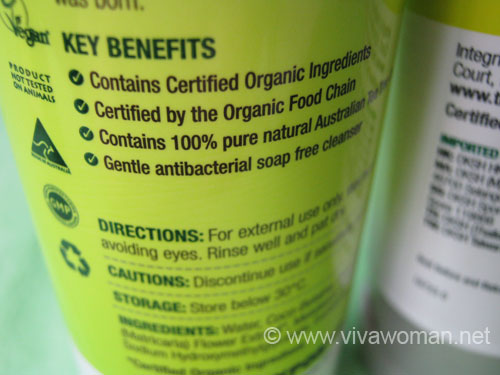 Overall summary
The Thursday Plantation product range appears great for those with acne or problematic skin type. Another pro is that the range is affordable and easily available at the leading pharmacies. In terms of formulation, it also comes across as gentler compared to what is usually available for acne care in the market so definitely something to consider if you have some sort of skin issues. Besides these four I've reviewed, you can also find the Tea Tree Cream at S$22.15, the Tea Tree Refreshing Body Wash at S$17.45, the Tea Tree Organic Soap at S$7.35. I'm looking forward to trying the body wash if the smell is bearable enough and also hoping that the company can bring more of their other range, which I spotted on their website.
Have you tried any of the products from Thursday Plantation? Any comments?
Comments