Pai Fragonia and Sea Buckthorn Hand Therapy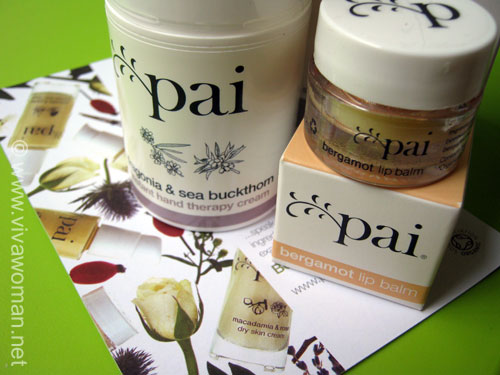 I have come across Pai Organic Skin Care many a times but have never tried their products. I don't believe we have their products in Singapore. My impression of the brand is that it is rather high end, maybe because of the simple and clean packaging. However, now that I've gone through their products on their online store, I realized that this brand is more mid range because the prices aren't so steep afterall. And yet their ingredients look rather pleasing to me for the products are formulated without alcohol (ethyl alcohols & alcohol denat), artificial fragrances, detergents (detergents including Sodium Lauryl Sulfate, Cocamidopropyl Betaine and Decyl Glucoside), formaldehyde (including sodium hydroxymethylglycinate), parabens (including japanese honeysuckle), phenoxyethanol and propylene glycol. Many of the ingredients are also certified organic by Soil Association.
Pai Fragonia & Sea Buckthorn Instant Hand Therapy Cream $25 or £16.00
I managed to try their latest Fragonia & Sea Buckthorn Instant Hand Therapy Cream, which the company sent to me for a complimentary review. This hand cream is rich in Pro-Vitamin A, Vitamin C and Omega 3, 6 & 7, and said to aid cell renewal. I love products containing sea buckthorn oil and this one sounds like a luxury to pamper my dry hands.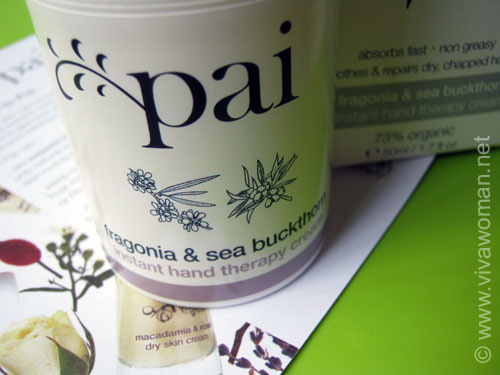 Ingredients
Ingredients: purified water, grape seed oil*, vegetable glycerine*, avocado oil*, coconut derived emulsifier, rosehip oil*, macadamia oil*, shea butter*, plum kernel oil, sea buckthorn oil*, fragonia oil, palmarosa oil*, castor oil*, natural vitamin e, grapefruit oil*, basil extract, corn extract, coconut oil extract, sustainable palm oil extract, lactic acid (from sugar beet) Naturally occurring in essential oils: d-limonene*, geraniol* *Certified Organic. Soil Association Certified. Suitable for Vegans.
This is the first time I've come across Fragonia oil and it is said to be derived from the Agonis Fragrans shrub and clinical studies show it to have excellent anti-inammatory and analgesic properties. Sea Buckthorn oil is effective at nourishing the skin and aiding cell regeneration because it is rich in antioxidants, carotenoids (Pro-Vitamin A) and a rare Omega-7 form of palmitoleic acid. Rosehip oil is also known to be rich in omega 3 and 6 as well as antioxidants like vitamin C, which together work to regenerate damaged skin. So as you can see, this hand cream is formulated with a number of beneficial oils full of antioxidant goodness.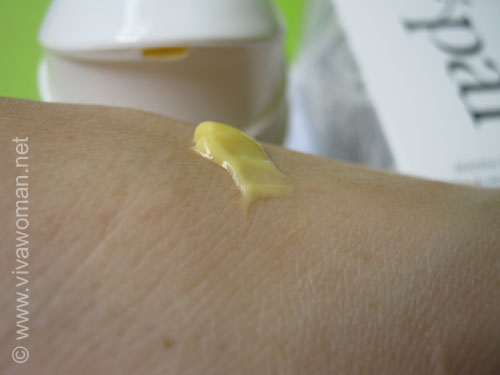 Texture, smell and packaging
Despite the number of oils in this hand cream, the product is surprisingly not too greasy. It is creamy but I only feel a little of the oiliness when I first rub the cream into my hands. The greasiness disappears really quickly compared to many of the hand creams I've tried. In fact, I didn't have to worry that my hands would leave stains on whatever they touched as they were not oily at all. Yet, they felt very moisturized and there is an improved suppleness and smoothness. The cream has a slight citrus smell and is packed in a short pump bottle. While is easy to dispense, is a tad bulky compared to hand creams in tube form. So I do not bring this out but leave it at home.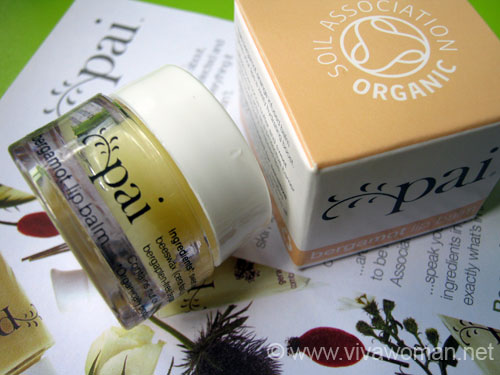 Pai Bergamot Orange Organic Lip Balm US$10 or £6.00
Ingredients: Sweet almond oil*, beeswax*, cocoa butter*, bergamot essential oil* (bergapten free) *Certified Organic. Soil Association Certified.
I also received their lip balm, a regular fixture at London Fashion Week, but did not test it for this one is to be kept for my next VivaBella giveaway *wink*. This 100% organic bergamot-infused balm is made from beeswax plus sweet almond oil and said to be perfect for sensitive lips as it contains absolutely no chemicals.
Overall summary
Based on the hand therapy cream that I've tried, Pai Organic Skin Care seems like a brand one can consider if you're into organic and natural ingredients. I like the look of their ingredient list and their prices, while not in the affordable range, are also not so steep. The range however, is currently only stocked in United Kingdom, Denmark, Germany, Hong Kong, Ireland, Netherlands, Spain, Sweden, and USA. The good news is that the international shipping rate is rather low at US $5.95, and is applicable to Australia, Bahamas, Falkland Islands, Hong Kong, Israel, Japan, New Zealand, Singapore, South Africa, South Korea, Taiwan. For more information, check out their website.
Comments