Being over the top is not always good for your skin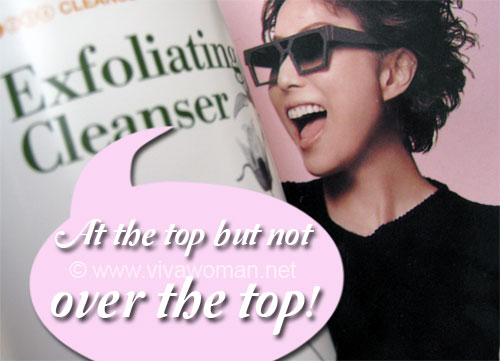 On and off, I get some questions from readers that are worth highlighting as a separate post. One such is from Aleen, who has sensitive skin and she was actually too disciplined with her skin care routine. Well, in her words, she called herself a paranoid. But I don't think she's alone having such an issue as we have, one time or another, fell into the trap of being "over the top" and exercised too much zeal in our skin care routines.
Over cleansing and over exfoliating
I double cleanse every time I wash my face, twice a day, although not using makeup and exfoliate 3 times a week. I even use seperate facial and body towel, change my pillowsheets every 2 weeks and even have another layer of clean sheet to cover it. I eat a lot of fruits and vegetables, ate vit E supplement and wash my hands very frequently. I also have at least 7 hours of sleep every night and I trim my fingernails short, always. And I stay away from peanuts..! I'm a paranoid.

My problem is that recently my skin is constantly having major breakouts, especially on the cheeks after starting as little whiteheads. My friends advised me to lessen the frequency of cleansing and exfoliating but that seemed to cause more breakouts when the skin gets oilier. (she believes that my skin is losing its "bacteria fighting ability" since I'm being TOO CLEAN!)
Actually, her friend was right and I also told her that over exfoliating can make her skin dry and that's why it is leading to more production of oil. So my advice to her was to cut down her exfoliation to once a week and to get an SLS/SLES free cleanser amongst other things. You can read the details in the comments section of this entry. About a week later, this is what she wrote:
Improvements after a week
My skin's getting better and fairer.. amazingly! (in just like a week plus? super instant results..!) I've bought a facial foam with no SLS.. it feels clean and i don't really need to double cleanse as often as I did before. I applied the water+oatmeal mask every 2-3 days and it really feels refreshing..! It smoothens my skin and somehow exfoliates off the dried and dead skin. I also reduce exfoliating session to once a week. I'm still using toner and moisturiser but surprisingly they don't cause anymore breakouts recently.
Exercise moderation and balance
So ladies, while you take care of your skin and be on top of it, it's best not to be over the top. Personally, I restrict myself to cleansing just twice a day and I only exfoliate more than twice a week if I have excessive breakouts. Otherwise, it's just once or twice a week. When it comes to applying facial mask, I have tried using one consistently for a week before stopping and then resuming to once or twice a week. At the end of the day, I think moderation and balance is better than being excessive when it comes to our skin care routines.
Comments