Tips on using essential oils for health & beauty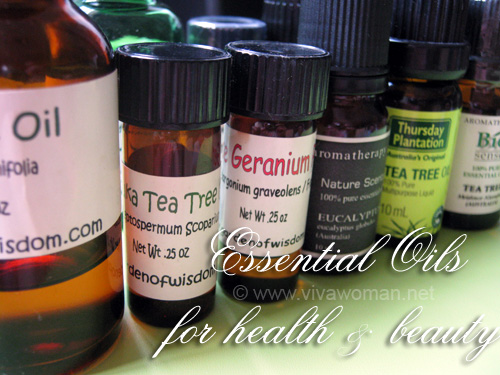 I was clearing my stash recently and noticed amongst others, that I have numerous essential oils of the same scent.  Actually, I'm not a heavy user of essential oil.  I probably used more in my younger days. The ones I have currently are mainly used for my son and in some DIY concoctions. Even then, I don't use them on a daily basis. So what essential oils do I own and what do I use them for?
The essential oils I use on a frequent basis are rose geranium, lavender, tea tree and eucalyptus. Occasionally, I'll indulge on lemon, lemongrass and bergamot too.
Create a specific mood or atmosphere
My husband likes to use the lavender essential oil with a burner when he is resting; I guess it helps him feel relax and calm. Aside from the essential oil, he has stocked up lots of scented candles too. Me? Well, I usually just enjoy alongside but using essential oil in a diffuser is not something that comes to the top of my mind. If I do use one, my favorite is rose geranium but my husband dislike that scent so I don't use it as often as I would like to.
Provide relief from a cold
I use eucalyptus essential oil a lot more, especially on my son. I use it when he's having a cold and to help him inhale the smell, I'll drop some into a bathtub with reasonably hot water for him to soak in or dilute it with a base oil and rub onto his chest. Eucalyptus is widely considered as an effective remedy for respiratory ills because of its invigorating action on the mucus membranes. So even though my son doesn't like the scent much but he will quietly let me rub the oil on him as he knows it provides great relief each time. Occasionally, I'll get him to inhale from a tissue paper scented with a few drops of the essential oil. I was told that it is also good to rub a diluted essential oil on the feet for direct benefits but I haven't tried this.
Disinfect the air
At the same time, I also use both eucalyptus essential oil and tea tree oil to disinfect our room each time someone is ill with a flu bug at home. What I do is to pour numerous drops of the oil onto our pillows and bed and this can help to prevent the flu bug from spreading. Tea tree is good because it is anti-bacterial but like eucalyptus, the medicinal scent is very strong. So every time I do this, I get a earful from my husband and son. Aside from disinfecting the air, I sometimes use a few drops of the essential oils in a pail of water to mop the floor.
Use as aromatherapy in body oils and DIY mixtures
Rose geranium is my current choice when I want some stimulating massage oil or body scrub. I love the scent and my mood always get better using this essential oil. I also use tea tree oil heavily as a body deodorant some times. It also works to reduce acne inflammation when I apply it directly on my skin or dilute it with aloe vera.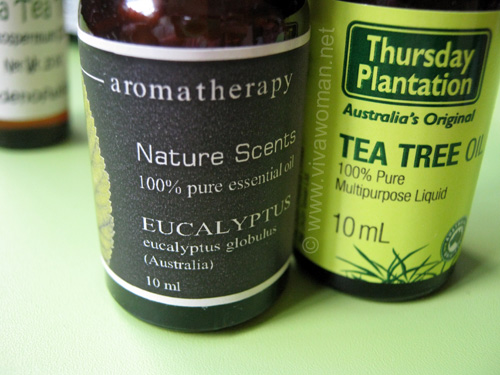 Caution when using essential oil
Essential oils do get absorbed. When you smell it, the scent is transported into your olfactory mucous membrane sending electrical impulses to the brain, which affect both body functions and emotions. When you massage or bathe, the essential oils you used are absorbed into the skin and enter the blood circulation. That is why those who are pregnant, breastfeeding or have a medical condition should try to avoid using them. Here are five other things to take note when using essential oils:
1. Never apply undiluted essential oil directly on your skin
While essential oils such as lavender and tea tree are considered safe to apply topically, it is always best to use essential oils on the skin by diluting in a base oil. Never use too much essential oil all at once; as a guide, add 10 – 25 drops in 100 ml base oil for body massages or create a facial mask by mixing 2 to 4 drops of essential oil into your mixture.
2. Keep away from eyes and mucous membranes
You should take caution not to get any of the essential oil into your eye or mucous membrane such as rubbing the oil directly onto the nose.
3. Conduct a patch test if you are using essential oil for the first time
If you have sensitive skin but want to apply essential oil on your skin, please conduct a patch test prior to using. You can do this by blending 1 drop of essential oil with about 10 drops of a base oil such as Jojoba or Almond oil, and apply to the inside of your forearm. If your skin turns red, you are allergic to this essential oil.
4. Some essential oils increase photosensitivity
Some essential oils should not be used before sun exposure. Most of these are of the citrus family such as Bergamot, Bitter Orange, Grapefruit, Lime, Mandarin, Orange, Lemon, Lemongrass. So it is best to use this in the night rather than in the day.
5. Increase shelf life of essential oils
Most essential oils have a shelf life of at least 2 years; some can get stored for up to 18 months. You can probably tell that it has degraded when the smell is not as strong as before. The key to extending the shelf life is to store the essential oils properly such as keeping away from direct sunlight, and certainly they are not to be stored in the fridge.
So are you an active user of essential oils? What are your favorites?
Comments