Are organic facials better than conventional ones?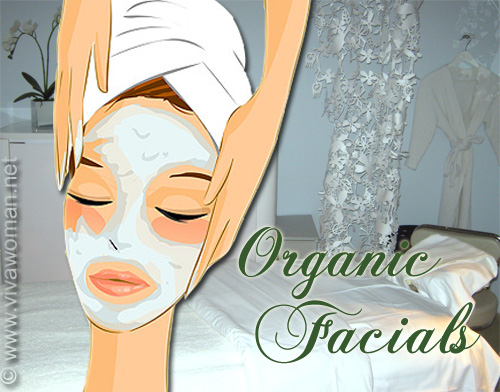 I get invited to facials sometimes but I've been very selective as I no longer go for conventional facials. By conventional, I mean those that offer their services based on non-natural and non-organic products. If it's not a facial that uses natural or organic products, chances are, I won't accept. I wouldn't say that natural and organic facials are better but let's just say, I'll like to respect my skin by keeping facials in line with what I use on my skin on a daily basis too.
There aren't too many choices for natural or organic facials in Singapore but I've tried a few and so I'll like to discuss if they're are a better deal compared to the conventional facials.
Beauty philosophy
When it comes to beauty salons offering natural or organic facials, one of the more obvious differences to me lie in their philosophy of providing a more holistic treatment to restore the natural equilibrium of the skin, and hence, such treatments appear to work better for those with sensitive skin. The focus is usually on the healing powers of botanical products and the massage techniques of the therapist. Usually, lesser or no machinery is involved.
Products used
Obviously, a natural or organic facial uses products that contain mostly natural botanical ingredients without synthetic preservatives, artificial fragrances, coloring agents, GMOs, petrochemicals, etc. For facials that are promoted as organic, the products used would be those that are certified as organic with USDA Organic or Ecocert certification. Most of these products are also not tested on animals. So as a whole, the products are more skin friendly, especially for those with sensitive skin conditions. However, some of the products would still contain active ingredients like fruit enyzmes or vitamin C to treat and regenerate skin conditions and not everyone can handle such ingredients. Additionally, essential oils are often introduced into such facials and again, some people are sensitive to these oils.
What you see is what you get
One thing I also noticed that the products used are exactly what they sell and they do not substitute with some low grade ingredients inside the treatment rooms. They would usually introduce the products they are using on the customer's face and add additional ingredients like certain custom blend oils when required. However, when it comes to conventional facials, I've come across those that promote one brand on their shelves but use cheaper ingredients when it comes to the facials. Of course not all of them behave as such and at the end of the day, it really depends on the integrity of the salon.
Types of treatments
Based on my experience, natural or organic facials do not differ that greatly from conventional facials in terms of their offerings. Popular treatments include anti-aging, acne treatment, skin brightening, skin balancing, hydrating, and or soothing treatments. Eye treatments are usually an extra on request. I noticed that beauty salons that offer natural or organic facials are more flexible with customized facials according to skin types but then again, this seem to have become more of a norm in the more established facial salons these days.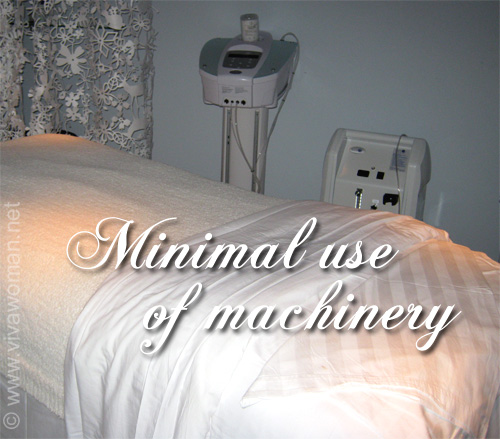 Treatment process
Typically, a beauty salon that promotes natural or organic facials stress quite a bit on detoxifying treatments. So besides their products, they also rely a lot on lymphatic drainage massages to improve circulation, remove toxins and reduce water retention. Some may rely on their bare hands but some may use a simple beauty tool like a baby Gua Sha. Again based on my experience, few machinery or sometimes none are involved with natural or organic facials. On the other hand, conventional beauty salons appear to focus a lot more on sophisticated machinery and some customers may actually feel that that such machinery offer them better value for the same price.
Steaming and extraction
Whether it is a natural, organic or conventional facial, most facials include exfoliation, some sort of treatment serums and at least one custom blended mask application followed by some hand, neck, shoulder and head massages. Conventional beauty salons have always steamed my face even though I hated that process. However, with the salons that promote natural or organic facials, most of them do not offer steaming. I've tried one that uses cold steam though, which was really interesting by the way. But I'm always told that their products can do an effective job of softening the skin and removing embedded impurities. Such salons also shun extractions unless absolutely necessary whereas most conventional beauty salons seem to favor that practice.
Results
Many people have the impression that natural or organic facials are slower to yield results but based on my experience, the results have been rather instantaneous. Well, at least I do notice a difference in terms of my skin tone as well as improved firmness most of the time. Two of my favorites are at True Beauty and Living Nature.
Pricing
I do not find natural or organic facials more expensive than the usual facials. Most of them are priced competitively. In fact, I've come across some that are priced very cheaply too, like Geranium and Kelyn Esther Garden Spa. All of them offer some sort of beauty packages but based on my experience, such salons are less pushy when it comes to promoting their packages.
Exceptions are not the norm
There are of course conventional salons that do not differ that greatly from those salons offering natural or organic facials aside from the products used; these are usually those upmarket establishments. But my discussions were based on the majority of conventional beauty salons that I've come across. Well, I'll admit that I might have been a little bias in my discussion since I have a propensity towards natural or organic facials. Hence, do feel free to add your comments should you have something to add or something you beg to differ.
© www.vivawoman.net copyright notice ☺
______________________________________________________________
Comments