Grapes and broccoli as vegetal sun protectors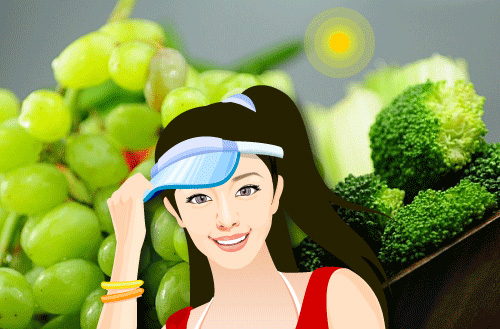 The dust has sort of settled and I'm able to return to blogging although it maybe less frequent for a beginning. Thanks everyone who left or sent me messages of concern! I'm fine; just a little tired. So for a start, let me share a short post regarding how scientists have found that there are compounds in grapes that could protect the skin against the sun and could be used in sunscreen and sun protection products.
Grapes protect skin cells from UV radiation
Grape extract is typically used in anti-aging products for its antioxidant powers. However, a study by researchers from the University of Barcelona and the CSIC (Spanish National Research Council) has indicated that some compounds found in grapes help to protect skin cells from the sun's ultraviolet radiation.
They can reduce the formation of 'reactive oxygen species' (ROSs) in human epidermis cells that have been exposed to long-wave (UVA) and medium-wave (UVB) ultraviolet radiation. In turn, this can reduce the amount of cell damage caused in skin exposed to this radiation. In other words, grape may reduce or prevent sunburn as well as longer term cellular damage. (source)
Broccoli reduce UV damage by 37%
Besides grapes, a study by Dr. Paul Talalay of Johns Hopkins University emerged some years back that broccoli was found to reduce UV damage by 37%. More specifically, the extract derived from newly sprouted broccoli seeds reduced skin redness and damage by more than one-third compared with untreated skin. The extract already has been shown to help skin cells fight UV damage in mice. (source)
Topical usage and ingesting for the benefits
The studies all seem to indicate that topical application of the extracts have more effect in helping to fortify skin cells to fight the effects of UV radiation. This is because these extract help boost the production of protective enzymes that defend against UV-related damage. The Marie Veronique Organics Sun Protective oil contain broccoli seed oil. I might have used products containing grape extracts in the past but I can't remember what were they now. However, I believe that eating grapes and broccoli will also help to boost the UV defense from within. I don't eat much broccoli but I've been loading up on at least a cup or two of grapes on a daily basis.
What about you? Do you eat any of these frequently? Or are you using any products containing these extracts?
Comments