Review of Jurlique Balancing Foaming Cleanser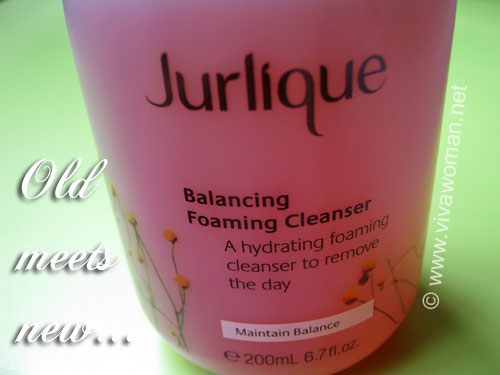 I probably used like three or four of Jurlique's products before but over time, I've kind of lost interest in the brand because their products are pricey and I turned to other choices. So after a long break, this is the first Jurlique product I've purchased after the company changed their packaging. Truly, I bought it only because I was given a voucher at the airport and there were limited choices. And I picked this Balancing Foaming Cleanser because I figured I needed something to cleanse my face after my Ren Cleansing Gel runs out.
Use of ingredients via biodynamic farming
Jurlique's selling point is the use of botanical ingredients via biodynamic farming from their own 153-acre farm. You will find that the ingredients on their products are not certified organic but the company reports that they never use pesticides or herbicides on their farm. I believe I was rather impressed with their products when I first tried them but I've since taken on a different perspective towards the brand, especially since I've tried organic skin care that are in the same market position. While I certainly don't mind trying their products, but I'm uncertain if I'll part my money for them. It'll probably have to take a good sale to make me do so now.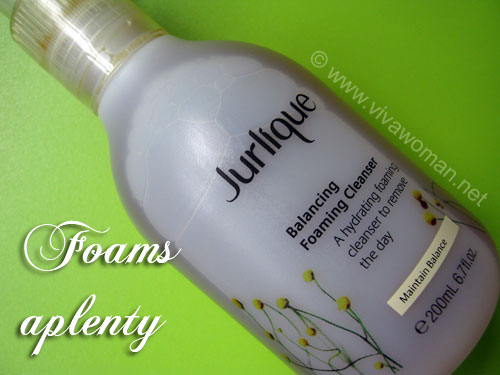 For normal and combination skin type
Anyway, this Jurlique Balancing Foaming Cleanser is for normal and combination skin type. There is another Purifying Foaming Cleanser that I've tried before back in the old blue packaging. According to information on the company's website, this Balancing Foaming Cleanser is described as a revitalizing cleanser that clears skin of impurities and leaves skin feeling clean and balanced. It contains ginseng root and rosehip oil, which are also supposed to help improve skin's firmness and reduce visible signs of aging. In addition, gingko biloba, marshmallow plus vitamins C & E provide intense hydration and antioxidant protection.
SLS/SLES free but contains 3 different surfactants
So this cleanser does not use SLS or SLES but the second, third and fourth ingredients are surfactants, which actually makes this cleanser somewhat drying on my skin compared to other non-SLS/SLES cleansers I've tried. It's not that bad but it's noticeable to me since I've been using SLS/SLES free cleansers for awhile now. The three different surfactants mean this cleanser foams very well and does a good job of clearing impurities. The scent – a combination of something botanical and something herbal – is very strong and needs some getting use to.
Ingredient list
Aqua (Water); Decyl Polyglucoside; Cocamidopropyl Betaine; Sodium Cocoyl Sarcosinate; Sodium Cocoyl Glutamate; Glycerin; Chamomilla recutita (Matricaria) Flower Extract; Calendula officinalis Flower Extract; Althaea officinalis (Marshmallow) Root Extract; Vitis vinifera (Grape Seed) Seed Extract; Camellia sinensis (Green Tea) Leaf Extract; Hamamelis virginiana (Witch Hazel) Extract; Rosa gallica Flower Extract; Bellis perennis (Daisy) Flower Extract; Prunella vulgaris (Self Heal) Flower Extract; Viola odorata (Violet) Extract; Curcuma longa (Turmeric) Root Extract; Spilanthes acmella Flower Extract; Honey; Lactic Acid; Hydrolyzed Wheat Protein; Guar Hydroxypropyltrimonium Chloride; Fragrance (Parfum)*; Aloe barbadensis Leaf Extract; Alcohol; Sodium Chloride; Totarol; Citral*; Limonene*.
* From Natural Essential Oil (Grapefruit – Citrus grandis; Lemon – Citrus medica limonum; Lemon Myrtle – Backhousia citriodora; Peppermint – Mentha piperita)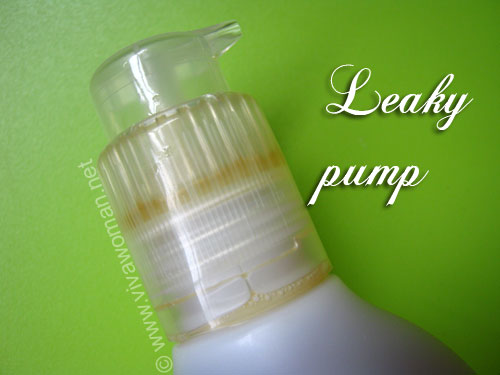 Packaging
Okay, I really need to gripe about this packaging. It's a plastic pump bottle and I didn't think it would give me much problems really. However, after using it for awhile, I realized that the pump actually leaks and because of that, the bottle is slightly sticky to touch. Yikes! I'm not sure if this is the only bottle that is leaking but I am not too pleased with it.
Price and availability
Jurlique Balancing Foaming Cleanser retails at S$44.50 within P&C at the arrival and departure halls of the airport. I'm not sure of the price down at the counter in Tangs but it's probably quite a bit more.
Overall rating
Sorry to say, I'm not too impressed by this product and would not repurchase it. It's definitely not hydrating for me as per its description. In fact, I had almost wanted to get the lotion like cleanser but decided against it after trying this product.

Comments